Recipes in this section are cooked over a stove like a Normal Person who has a Normal Kitchen (i.e. non-vandweller).
fried rice
cook rice in advance, allow to cool thoroughly and set aside.

Mince meat (if any), flavor/marinate if desired.  Cook over high heat.  Set aside in bowl.
Repeat for vegetables/tofu.  Set in bowl above.

Add more oil to hot pan, cook rice 80% to desired amount of scorch.

Scramble two eggs.  Move rice away from center of pan, cook eggs.

Re-add previously-cooked ingredients and heat through.  

Just before taking off heat add a small amount of soy sauce and toss.

burritos
Burritos can be made from pretty much anything. I often use leftovers and oddball ingredients and call them "dumpsters" because everything gets thrown in.
I'm not much of a hot sauce guy but living in El Paso taught me to love Valentina salsa picante. When I have some handy I add sour cream.
flour tortillas
pretty much any food ingredient

Heat non-cheese ingredients.
Heat one side of tortilla.
Flip over and add cheese layer
add non-cheese ingredients

cook until warmed through

chicharrón burritos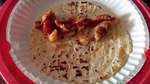 Sounds weird, but these are great comfort food and the rinds are shelf-stable until rehydrated. My go-to Mexican picante sauce is Valentina original "yellow label".
chicharrón (heavy cracklings, not light pigskins)
tortillas

braise cracklings in a bit of water until hot and soft.
after ~15mins they will be done and water evaporated.

place in tortilla
add condiment of choice
enjoy

roast beef and mushroom dumpster burritos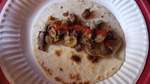 These were made from canned roast beef, canned mushroom slices, and Mexican-blend cheese.
tortilla-bowl eggs
Based on this idea from Kaylee. One of the benefits is you can cook eggs and cheese and still have easy cleanup.
tortilla
2 eggs
extras

Place tortilla in pan and cook on LOW until egg starts to curdle.
Stir.
Continue to cook until almost done.
Fold over tortilla omelette-style

Experiments:
B. (first attempt). I got greedy and tried 3 eggs, which was too much volume for the bowl. Added leftover corned beef, cheese, and a few fried onions. I had heat on too high, resulting in burning. I made a command decision and added another tortilla over the egg mixture and flipped it over. Turning the burner down to low made 5 mins a good time for browning the other side. Lessons learned. This resulted in a "hamburger"-style rather than "omelette". Will try again with 2 eggs for omelette style.
tortillas
Based on yet another of kaylee's experiments. I actually have a small rolling pin in the camper I have previously only used on sore muscles and cramps. I might invest in a mini roller or use a full can of beer or something for easier manuevering in the limited galley.
v1.0

128g flour
20g oil
2g salt
80g water 


Mix dry, add in wet ingredients.
Knead for a few minutes.
Allow to rest for 0.5 hours
cut into four pieces, roll into balls, press or roll flat.

bake on hot pan

Experiments:
A. (first attempt). Used white flour to reserve whole wheat for bread. Used bacon fat as the oil, melted. My rolling pin skills are rough and workspace is limited. Higher heat in the pan seemed to work better. These taste remarkably like tortillas; I imagine coming hot off the griddle covers a multitude of sins.
vegetables
curry zucchini
Version 1.0

wash veggies
cut off ends
cut into pieces
toss with a bit of oil
dose with curry powder

saute

Experiments:
A - first try. Flavors are very good together.
substitutions
large egg
based on this article
29g water
4g vegetable oil
8g baking powder