Recipes in this section are cooked over a stove like a Normal Person who has a Normal Kitchen (i.e. non-vandweller).
fried rice
cook rice in advance, allow to cool thoroughly and set aside.

Mince meat (if any), flavor/marinate if desired.  Cook over high heat.  Set aside in bowl.
Repeat for vegetables/tofu.  Set in bowl above.

Add more oil to hot pan, cook rice 80% to desired amount of scorch.

Scramble two eggs.  Move rice away from center of pan, cook eggs.

Re-add previously-cooked ingredients and heat through.  

Just before taking off heat add a small amount of soy sauce and toss.

burritos
Burritos can be made from pretty much anything. I often use leftovers and oddball ingredients and call them "dumpsters" because everything gets thrown in.
I'm not much of a hot sauce guy but living in El Paso taught me to love Valentina salsa picante. When I have some handy I add sour cream.
flour tortillas
pretty much any food ingredient

Heat non-cheese ingredients.
Heat one side of tortilla.
Flip over and add cheese layer
add non-cheese ingredients

cook until warmed through

roast beef and mushroom dumpster burritos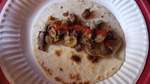 These were made from canned roast beef, canned mushroom slices, and Mexican-blend cheese.
tortilla-bowl eggs
Based on this idea from Kaylee. One of the benefits is you can cook eggs and cheese and still have easy cleanup.
tortilla
2 eggs
extras

Place tortilla in pan and cook on LOW until egg starts to curdle.
Stir.
Continue to cook until almost done.
Fold over tortilla omelette-style

Experiments:
B. (first attempt). I got greedy and tried 3 eggs, which was too much volume for the bowl. Added leftover corned beef, cheese, and a few fried onions. I had heat on too high, resulting in burning. I made a command decision and added another tortilla over the egg mixture and flipped it over. Turning the burner down to low made 5 mins a good time for browning the other side. Lessons learned. This resulted in a "hamburger"-style rather than "omelette". Will try again with 2 eggs for omelette style.