The press is a Nostalgia MyMini, rateed 520w but only 420w observed with the kill-a-watt. It has a diagonal divider I find a little annoying; others may want a completely flat cooking surface.
Since it cycles on and off it's hard to get accurage times/energy readings. But in general I find it takes about 20Wh to toast a sandwich.
I usually preheat the griddle then place the food in.
sandwiches
grilled cheese
I assemble the whole sandwich before insertion; otherwise the bottom half gets overdone
biscuits
supermarket canned biscuits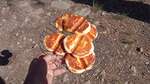 Walmart Great Value jumbo biscuits. 40-something Wh. My Kill-a-Watt could only show 0.04kWh so it was somewhere between 40-50Wh. Quite tasty, I ate them without butter or jelly. These are the best so far. There's a stripe in them because the sandwich grill has a diagonal line in it for making triangular sammiches.– lemmy post about this experiment
biscuit mixes
70Wh for the whole batch, or ~18Wh per biscuit. Total time 22mins.
Mixes and scratch are preferable to refrigerated tubes of biscuits (see above) because they don't have to be refrigerated.
I tried the Pilsbury Garlic Cheddar mix in the DBO and on a flat pan already and thought it was time to try the press. Very good, I think this is the way.
Before I made the biscuits I made a cup of white gravy from a Walmart mix. I can't remember who made it (Pioneer?) but it was in bulk not in packets. I decanted the dry mix into a 1qt bottle for storage.
cornbread
hot water cornbread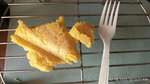 AKA corn pone, corn dodgers, etc. ~35Wh per patty, or ~105Wh total for three.
v1.0

boi1 1.5c of water
stir in 1.5c (185g) corn meal
5g salt

Allow to sit for ~10 minutes for corn meal to fully absorb water.
press into patties and grill in press, 4-5 mins each
cool on rack
sprinkle with additional salt if desired

Experiments:
20230718 - A. Not quite as tasty or crisy as pan-fried, but easier and no grease spatter. Brushing with oil before cooking might be fun experiment.
biscuits
cheddar drop biscuits
based on this recipe
~17.5Wh per tringular biscuit

240g flour
14g baking powder
7g salt
1 stick cold butter, diced
0.75c buttermilk (180g water + 18g buttermilk powder)

Mix dry ingredients.
Cut in butter with fork or pastry blender

Cook in sandwich press for 5mins.


A+. Outstanding flavor and texture.