I am not an Instant Pot (IP hereafter) fanboi or zealot. When I lived in a house I used pressure canners and cookers fairly often. I have used a small pressure cooker in the van from time to time.
My reasoning behind getting an Instant Pot discussed in this blog entry. I do not think it productive to build a robust power system to run an IP, but if one already has the robust system we might as well make use of the excess power. The IP used in these recipes is the 3qt Duo Mini.
I have found the IP to save a great deal of power compared to crockpot cooking (typically 1/3rd less). Perhaps more surprising is the water savings, even compared to my stovetop pressure cooker. The stovepot version must vent steam to regulate at a specific pressure; the IP uses a pressure sensor and so does not vent steam during pressurized cooking. I'd say the average water savings is 25%, with rice being the biggest saver (50% of the water required).
Note: some will involve Pot-in-Pot (PiP) cooking where another pot is placed inside the IP inner pot. Like a double-boiler. I often use a 6" springform because it fits nicely in the bottom of the IP.
I've collected some observations about the IP mini.
beans and peas
red beans
160Wh
180g (1c) red beans
3c water
onion
red pepper
salt
bacon ends, pork fat, etc

pressure cook on HI for 30mins (BEANS preset)
natural release

A. 20230307. Quite nice, the beans preset seems to work just fine.
split pea soup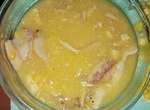 v1.0

1c split yellow peas
3c water

rinse peas

place in oiled pot or PiP
3c water
salt and pepper
0.25lb bacon for flavor

12 minutes at pressure
natural release

Experiments:
A. 20230527. Pantry cleanout. Turned out quite tasty and I don't even like peas! The peas were disintegrated to cream-soup consistency. I suspect it'd only take a few mins to cook them, but there were other ingredients that needed to be cooked.

Added in a 10oz can of chicken w/broth, so reduced water to 2.75c
ear of corn that needed to be used
bacon draped over corn
a drizzle of chicken bouillon
grains
rice
white rice
IP: 90Wh, 30 minutes, (13 until completion + 17 release)
rice cooker: 226Wh, ~50 minutes.
rinse 1c rice
1.5c water

cook at pressure 6 minutes
natural release

rice and boudin
An IP attempt at the rice cooker version
IP = 110Wh and ~30mins. Rice cooker ~250Wh and ~50mins.
v1.1

rinse 1c of rice
add 1c water
add sliced boudin

pressure cook 5mins
natural relase

A. 20230711. Tried 4mins and it was very good. Will try 5mins next time to see if it can be perfect.
vegetables
Mexican squash and andouille sausage
120Wh.
I got a bag of calabacitas for $0.99 and it was clear they needed to be cooked soon. I cut them into irregular pieces and sauteed a bit in the IP while I was cutting up a half-pound of andouille sausage. Salt and pepper.
Added 0.5c of water and pressured cooked for 3mins, natural release.
potatoes
based on this recipe
0.5c water
potatoes, cut into 1.5" chunks
salt pepper
onions
meat scraps if desired


pressure cook on HI for 6 mins
natural release

Experiments:
A. 20230312. Potatoes with onions and salami. 110Wh for 4 hours hold, 6mins cook at pressure, natural release and 1.25 hours of Keep Warm. 90Wh before the Keep Warm.
sprouts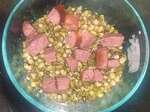 80Wh, 30mins total (13mins cooking + 17mins natural release)
pot-in-pot
0.5c water in outer pot

~4mins at pressure 
followed by natural release.    

meat
country-style pork ribs over brown rice
160Wh
1.25c water
1c brown rice
1lb country-style ribs

onions, spices, ec

cook for 30mins on HI pressure
natural release

serve with gravy

20230909 - B+. A little dry. Might mess with the pressure or time.
drumsticks
drumsticks
potatoes
salt
pepper

Meat preset (30mins on HI)
natural release

A-. 20230301 - very tender, maybe too tender. Back off to 28mins?
dessert
rice pudding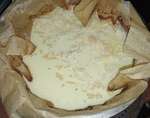 Based on this crockpot recipe and several internet recipes that recommended 15mins pressure cooking.
v. 1.1

rice pudding recipe listed above
except only 1.75c milk

0.75c water for steam

pour mixture into 
parchement-lined PiP

cook for 20mins on HI pressure
natural release

B. 20230318 - Soupy and rice just underdone. Will bump to 20-25mins.
cheesecake
based on this recipe
Version 1.1

Allow all ingredients to come to room temp before mixing

1lb cream cheese
108g white sugar

2 eggs
61g sour cream

2.25g vanilla extract
2g salt
9.25g flour

cream the cream cheese and sugar
mix in eggs
mix in sour cream

pour into parchment-lined medium dogbowl
load into inner pot with foil sling

pressure cook on Hi for 25 minutes
natural release
blot water from top of cheesecake
chill in fridge

B. 20230321 - I put some Maria cookies into the bottom since I didn't have graham crackers. Never been a fan of the crust anyhow. This was decent (no one would turn it down) but I'd like to try it in the crockpot.
bread
no-knead bread
from this recipe, which takes 180Wh to cook in the crockpot. IP took 90Wh to cook. In the winter the crock would do double duty warming the van.
A traditional loaf won't be possible. The idea is to test yogurt mode for proofing and to make a serviceable loaf to use for sandwiches, toast, etc.
0.75c of water in bottom of inner pot
place dough ball in parchment-lined 6" PiP on trivet
cover loosely with foil tent

proof 2 hours in yogurt mode (Normal, ~30Wh)
pressure cook 30mins on HI (~90Wh)

quick release after 10 minutes


B-. 20230603 - Used half whole wheat and half white AP flour. Only 1.75" tall. Small airspaces. Next batch will experiment with leaving uncovered and proofing for longer, and maybe in the small dogbowl to get a taller loaf.
cornbread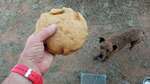 based on this recipe. ~120Wh in the IP vs ~270Wh in the crockpot.
v1.0

64g cornmeal
25g sugar
7.25g baking powder
4.25g salt
48g all-purpose flour
36g oil
87g milk (or 8.2g powdered milk + 82g water
1 egg

Mix dry ingredients.
Add wet.

~0.75c water in bottom 
PiP on trivet
HI pressure for 35 minutes, natural release.

B. 20230524 - halved the crockpot recipe, used whole wheat flour, powdered milk. Used 0.75c of water but I think 0.5c would have been plenty. Natural release. Flavor is good. Not a crusty baked texture, but I will be serving this with pinto beans over it anyhow. The half-batch is a good size for me.
dessert breads
banana bread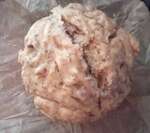 based on crockpot banana bread recipe
160Wh, just over 2 hours from pressing GO until natural released. The crockpot version was about the same amount of time but consumed at least 180Wh.
crockpot banana bread recipe

pour batter into parchment-lined PiP
tent with foil to keep bread dry

pressure cook HI for 60mins
natural release


A-. 20230302 - very good flavor. Denser and more moist than in crockpot. Actually browned.
leftovers
In general I put 0.5c of water in the bottom, insert trivet and place the leftovers in a foil packet or PiP for reheating. 2-5mins at pressure depending on mass, natural release. So I start maybe 30mins before I want to eat.
pasta
pasta and chicken
v1.0

0.5lb small pasta like rotini, macaroni, etc
2c water
1lb chicken bits

pressure cook on HI 30mins
natural release

B. 20230622 - 160Wh. Pasta time would be ~6mins, quick release after 5mins. But there was raw chicken in there so I let it go for 30mins. Pasta was in so long it became pillowy, almost like dumplings. And not in a bad way. I'd be interested in seeing what happens with shorter cooking (absent raw meat).
misc
sauerkraut and kielbasa
I placed kraut in bottom of PiP, cut sausage into bites and put on top. 8 minutes at press, natural release. I think 5mins would have been fine.
meal kits
This section intends to test out approaches to see what works.
knorr
The 5.5oz kits consume ~80Wh in the IP vs ~248Wh in the rice cooker. Total time in rice cooker ~55mins. Total time in IP 29mins.
knorr mushroom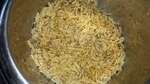 5.5oz. Package said boil 2c of water with butter pat, add rice and cook for 7m.
v1.0

1.5c water
1 TBS butter
5.50z packet 

add all ingredients

pressure cook 4mins on HI
natural release

A. 20230616 - 80Wh. Cooked early and allowed to stay on KEEP WARM for another 47mins (and another 20Wh). Texture is right on, like a stovetop. Natural release meant no foaming, so easy cleanup.
knorr herb and butter
As above with mushroom.
walmart pasta dinner kit
130Wh.
Cheeseburger pasta skillet dinner, 5.8oz.
calls for 1lb of browned meat, 2c water, 1c milk, 12mins simmer time.
v1.1

dumped contents
2c water
23g powdered milk 
12.5oz canned chicken breast

cook at HI pressure for 6mins 

B. Reduced liquids to 2c since it would have liquid from canned chicken and evap would be limited. Texture is a little soft, so will reduce to 5-6mins from 7. Otherwise good (for what it is).
rice-a-roni
based on this article
Rice cooker 300Wh
Instant pot 90Wh (40Wh saute, 50Wh pressure cook)
v1.2

rice/pasta +2TBS (28g) butter
use saute function if directed

6.9oz packs get 1.5c (356g) of water

pressure cook on HI for 5 minutes

nautral release pressure


A-. 20230610 - I adjusted water up to 1.6c (380g) of water because the 7.2oz packet was bigger, but it's a little soupy. 5mins at pressure is on the borderline of too al dente. 6mins next time.
Zatarain's Gumbo mix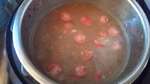 130Wh
v1.1

5c water
0.5lb kielbasa

presure cook for 8 mins
natural release

A-. 20230612 - originally did 12mins with quick release, which caused foaming and a big cleanup. Will change to shorter time and natural release.
misc
eggs
scrambled eggs
I often cook a chub of sausage then add egg to it to make breakfast burritos. In this case I had 1/2lb of sausage cooked (refrigerated leftovers). I mixed up 6 eggs and poured over the crumbled sausage. Pressure cooked PiP for 5 mins, natural release. (90Wh).
After 5mins the mixture had risen like a souffle but was wobbly and underdone. I put it back for another 5mins (+30Wh since everything was already hot). This was cooked through. Eggs were very springy, which was a little disconcerting. I mean, they vibrate when you touch them.
Cleanup of the glass bowl was easier than a saute pan and Wh probably better than stovetop, but I still had to run another heat source to warm the tortillas. On balance I think this is a failure.
hardboiled
80Wh.
0.5c of water
eggs on trivet

5mins on LO pressure, natural release

20231011 - A+. Right on.
polenta
based on this recipe
I want to cook it into a semisolid then cook on a hot pan later. There is a good chance it would work better (dry out more) in a crockpot with a bit of ventilation.
v1.0

2c water
3g salt
1.5g garlic powder
black pepper 
123g cornmeal

32.5g oil or fat

preheat water
stir in cornmeal

pressure cook PiP for 14m
natural release

FAIL. 20230617 - Preheated water on saute (30Wh) since some of the the oils were bacon fat. Pressure cooked for 14m (90Wh). It was a failure to make a solid polenta like I want, but B+ for making breakfast. Even though the cornmeal was evenly mixed into the water it stratified into dense at bottom and loose at top. I think this needs to be a crockpot recipe where I can stir it.
plans and ideas
proof bread dough on Yogurt setting