I am not an Instant Pot (IP hereafter) fanboi or zealot. When I lived in a house I used pressure canners and cookers fairly often. I have used a small pressure cooker in the van from time to time.
My reasoning behind getting an Instant Pot is discussed in this blog entry. I do not think it productive to build a robust power system to run an IP, but if one already has the robust system we might as well make use of the excess power.
Note: some will involve Pot-in-Pot (PiP) cooking where another pot is placed inside the IP inner pot. Like a double-boiler.
beans
red beans
180g (1c) red beans
3c water
onion
red pepper
salt
bacon ends, pork fat, etc

pressure cook on HI for 30mins (BEANS preset)
natural release

A. 20230307. Quite nice, the beans preset seems to work just fine.
vegetables
potatoes
based on this recipe
0.5c water
potatoes, cut into 1.5" chunks
salt pepper
onions
meat scraps if desired


pressure cook on HI for 6 mins
natural release

Experiments:
A. 20230312. Potatoes with onions and salami. 110Wh for 4 hours hold, 6mins cook at pressure, natural release and 1.25 hours of Keep Warm. 90Wh before the Keep Warm.
meat
drumsticks
drumsticks
potatoes
salt
pepper

Meat preset (30mins on HI)
natural release

A-. 20230301 - very tender, maybe too tender. Back off to 28mins?
dessert
rice pudding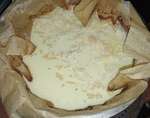 Based on this crockpot recipe and several internet recipes that recommended 15mins pressure cooking.
v. 1.1

rice pudding recipe listed above
except only 1.75c milk

0.75c water for steam

pour mixture into 
parchement-lined PiP

cook for 20mins on HI pressure
natural release

B. 20230318 - Soupy and rice just underdone. Will bump to 20-25mins.
dessert breads
banana bread
based on crockpot banana bread recipe
crockpot banana bread recipe
tent with foil to keep bread dry

pressure cook HI for 60mins
natural release


A-. 20230302 - very good flavor. Denser and more moist than in crockpot. Actually browned.
leftovers
plans and ideas
proof bread dough on Yogurt setting