Palm Canyon and relo to Kingman
Day 14 of our stay was arriving soon, and a temperature spike into the 80s helped provide motivation to go up in latitude and/or elevation.
Day 13 - Palm Canyon, KOFA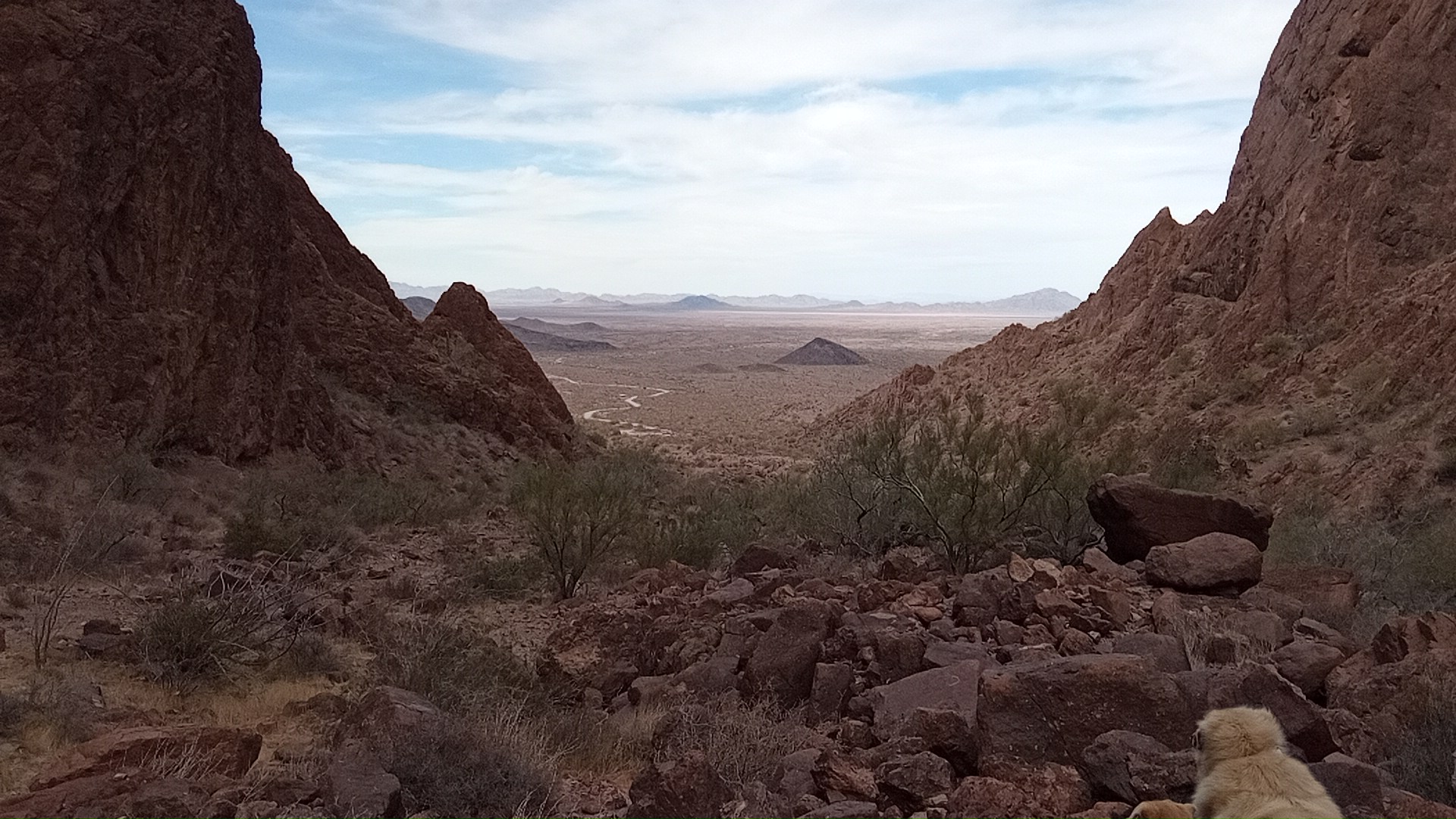 This is the view from Palm Canyon, the feature I was walking toward the other day. It's a crevice in a giant piece of rhyolite that was pushed up; some of the strata near the palms are nearly vertical.
The path ends at an elevated viewpoint of the palms, marked by a sign. The trees are not so obvious since they grow in a steep, narrow, vertical-walled side ravine which is in shadow nearly all of the day. They are about 700 feet distant from the viewpoint, and 400 feet higher. – americansouthwest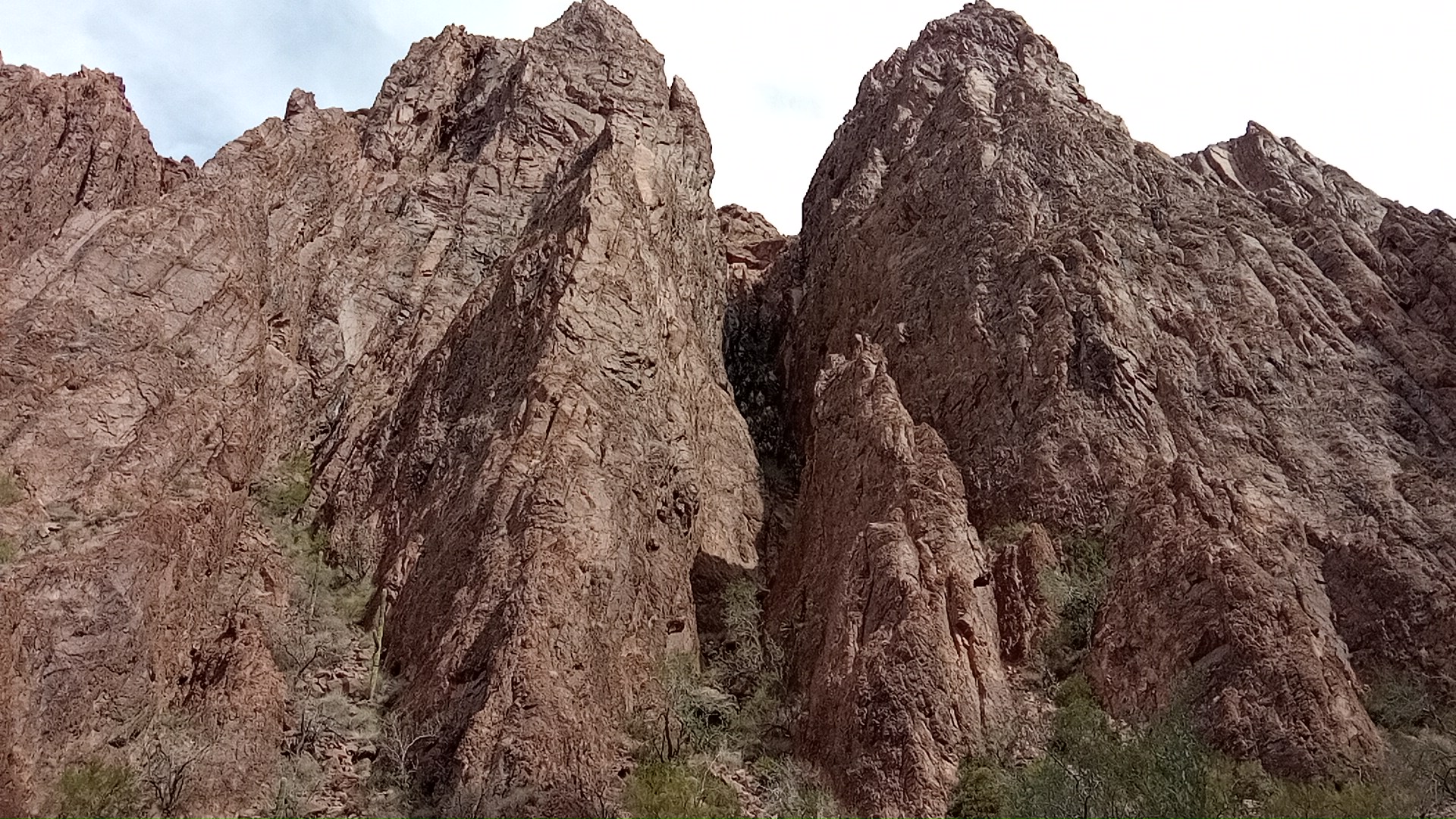 The palms look healthier than in my last visit; all look good and I think there are two younger palms down below now.
The hike from the parking area (curlicue white strip in first pic) to the viewing point is 1/2 mile. Moderate rise but some areas with loose gravel and loose rocks. I'd encourage two trekking poles due to loose footing.
Day 14 - relo to Kingman
Quartzsite
I stopped at RV Pit Stop in Q to get propane ($3.00/gallon) and fill the water tanks. The price had rising from $2 to $4 to fill a campervan. Maybe seasonal pricing?
I noticed in Q regular unleaded was well into the $4 range. I had 300mi of range left so no need to tank up. Google suggested prices were lower in LHC anyhow.
I drive at retirement speeds anyhow but fuel costs made me more willing to set the cruise even lower.
Lake Havasu City
LHC has a Planet Fitness. It was a check-in cluster but the shower was welcome. After that I hit walmart for groceries. There were a few more empty spots and prices a little higher but my overall spend was still in the $100 ballpark.
Unleaded was $4.95, the highest I've seen outside California.
Day 1 - Kingman (4,500')
fan motor
I picked up the replacement from General Delivery, and noticed unleaded was a good deal cheaper in Kingman than LHC: $4.55.
camping
Our new spot is in a small BLM spur outside Kingman.
The additional 3k' means a welcome drop of ~10deg F. In this pic some of the higher peaks still have snow on their shaded northerly faces: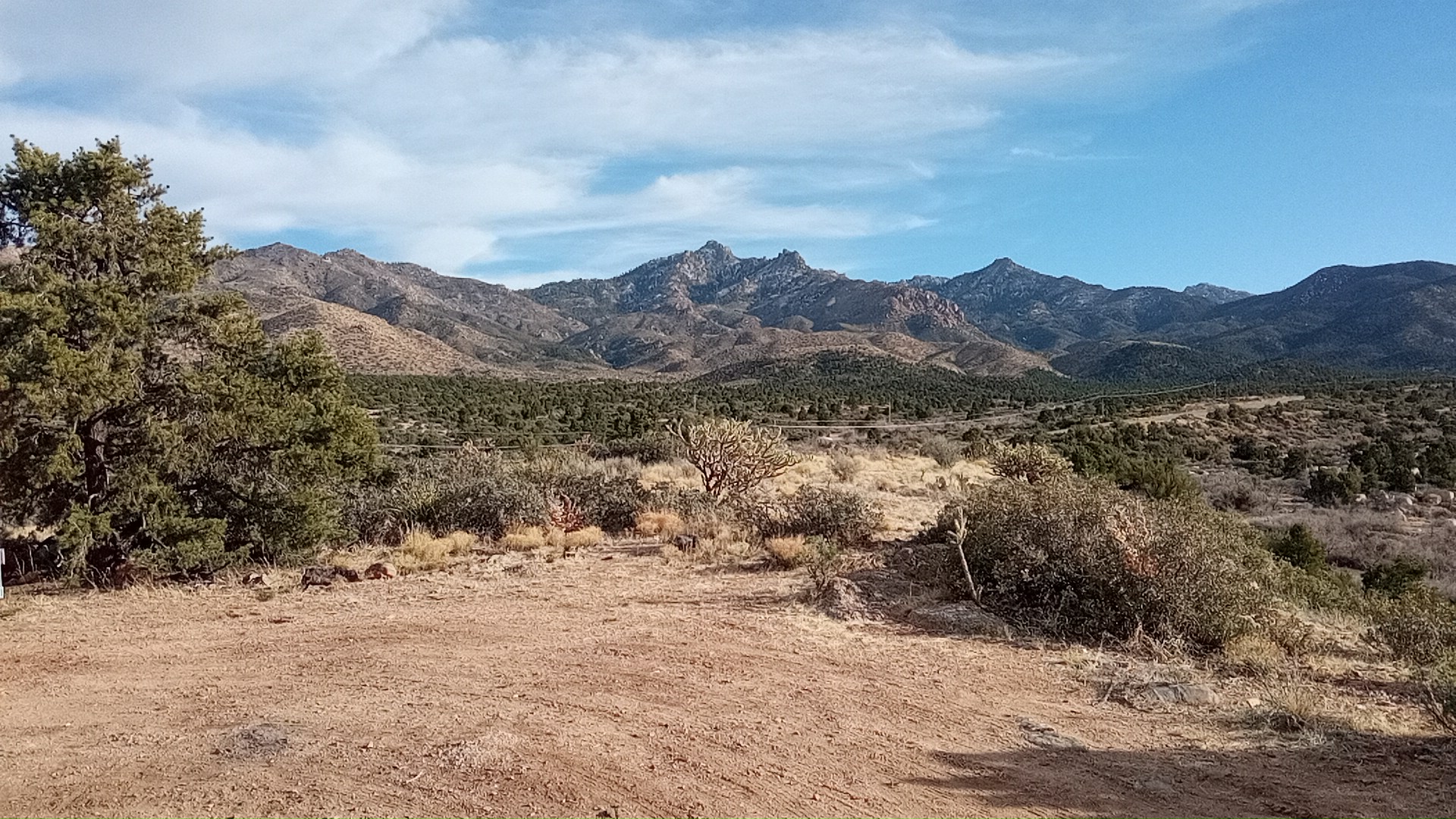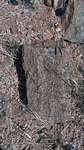 There are rocks everywhere that look suspiciously like petrified wood. Could be. The Petrified Forest NP is about 250mi to the east at the same latitude and similar elevation.
eats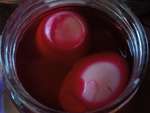 I finished off some dill pickles and poured off most of the juice. Added some beet juice from a can of pickled beets and added a bit of apple cider vinegar. I hardboiled six eggs from walmart run, peeled them and plopped them into the concotction. It's not preservation in any normal sense (not enough acidity) but a way to get some color and flavor into the eggs. I'll eat them up over the next couple days.
Found some country-style pork ribs1 on clearance at walmart. I laid them on top of some cleaned and oiled potatoes in the crock, seasoned, and turned them loose for 5 hours on HI. Hopefully it'll make a good dinner, with some of the pork flavor infusing into the taters. I was going to cook the potatoes anyhow so the meat is coming along for a free ride…
comments
twitter comment thread for this post