KOFA experiments and relo
boondocking in KOFA
Greater KOFA is an area of public land south of Quartzsite, AZ. It is partially BLM and partially Fish and Wildlife (the actual Kofa natl wildlife preserve). It's named after the King of Arizona gold/silver mine that was active 1897-1939.
palm canyon
The most famous feature after the mine is Palm Canyon, a stand of native palm trees left over from the last ice age. They live in a narrow canyon that collects water but does not get much direct sun. This canyon is the lower shadowed area in the feature in this pic: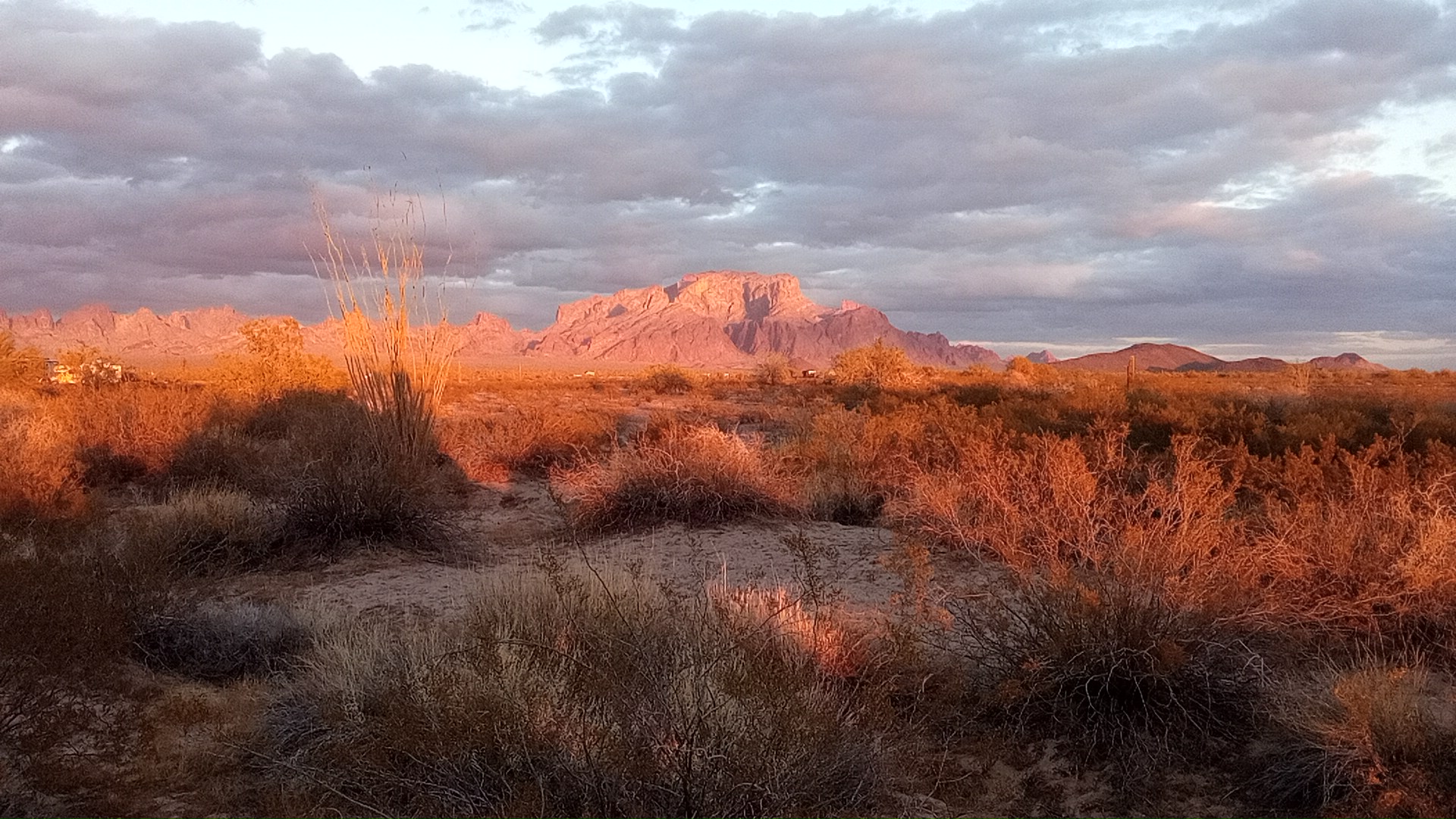 walking the dogs
It's about 5 miles from our campsite1 to the base of Palm Canyon. Emboldened by the cooler temps (highs in the 60s) I took off with the dogs and water.
It's a gentle uphill all the way so I figured we'd walk until we started to tire then head back. We made it a little over 4mi before the dogs started to slow down. I did't want to carry 100# of dog back with me so I paid attention and turned back. Everyone concerned slept well that night.
day trip into Q
I had a package coming into Q general delivery, which is reported to be a rude nightmare. My experience was good, the mail was located quickly and in a professional manner. Thanks, USPS worker bees!
While there we went to the dog park to let the dogs run, then to my favorite food salvage store located in a permanent tent south of I-10. Pigskins for $1/bag? Yes, please.
experiments
crockpot
outside crockpot in the wind
I have run the crockput outside before when interior temps were warm, but this was the first attempt in windy weather. The baked potatoes and the shortbread were both undercooked when cooked in the wind. Maybe when windy I'll keep the crock inside in the driver's cabin and close the curtains to sequester the heat.
pork chops in the crock
I had bought a package of a half-dozen frozen 1" pork chops for $7.50 at the Green Tree food salvage in Yuma. I grilled the first 3 on the naan pan but I had a hard time estimating cooking time. I ended up overcooking those.
I wanted to bake 2.5# of potatoes in the crock. I tossed the other 3 chops on top and baked for 5hrs. They were basically fall-apart roast at that point. Would have been better if I'd thought to make gravy.
zucchini
I got 6x/$1 zukes at the Green Tree. They were on the edge and needed to be used soon.
I diced them, tossed them in a bit of oil and sprinkled curry powder on them. Cooked on the naan pan and the flavor combo was surprisingly good. Recommended.
easier use of the mini-hotplate
You may remember I have a lab hotplate that consumes ~300w. It's well-suited to the amount of excess solar I typically have, but it has no thermostat or even ON/OFF switch. Plug it in and it's on.
This requirement to crawl under the bed platform to plug into the grounded outlet has limited my use of the plate. I picked up a remote power switch rated for 1000w and mounted the remote button in the "kitchen". Much better and I've been using it more lately.
superglue for heel splits
The combination of dry skin, crazy low humidity (8% this week!), and flip-flops can lead to painful splits in heel callouses. Remembering the (apocryphal?) stories of a Vietnam first aid origin, I tried putting a thin layer of superglue over some bad splits. Sealed nicely and relieved the pain. I think the glue keeps the split from spreading open when under walking loads.
relocation
We are loosely planing to summer around Flagstaff unless we get another Heat Dome of Death. This relo will take us to Havasu/Kingman. If weather holds we might stay in Kingman a while before moving on. With gas prices rising less driving would be preferable.
I have another General Delivery going to Kingman; I ordered a replacement motor for the Maxxfan. In year 5of constant duty the motor has started to struggle sometimes. I suspect it's a brushed motor and the comm/brushes are worn. If I push on the output shaft it acts normally.
comments
twitter comment thread for this post
and where the pic was taken ↩