in transit: Capitan/Jaggers, Ruidoso, Alamagordo
The day before our 14d stay at Cave  Campground in the Fort Stanton / Snowy River Cave national conservation area was up  we got a friendly visit from the camp host from the nearby Jaggers free-day/paid -overnight campsite. 
He reminded me my time was almost up, and I said I knew and had it marked in my calendar (as is my practice).  He'd come by in a UTV to check trashcans  and restock/clean the vault toilet so I figured he was either the Jagger host or a worker bee.  
A couple days prior we had made a run to the nearby Ft Stanton historical site and had seen Jaggers as we passed.  I knew it had overnight spots w/water for $5 so I was watching.  The probably camping area was torn up with construction but my boondocker eyes spotted a water spigot in the day use area.  Since the host was at hand I asked him if it was available for a $5 fee.  He confirmed the spots were closed but that water was available for the $5. 
Since I was nearly dry after 14d of two-person camping and needed ~40 gallons.  At the kiosk in Capitan (spotted by DC) that would be $8 (40gal x .20/gal), or $5 flat-rate at Jaggers.  Seemed like a no brainer. 
leaving Cave Campground
DC needed to hit Capitan on the way out and we arranged to meet at a spot in Ruidoso (see below).  I stopped at Jaggers to tank up and started filling out the recreation fee envelope:
Note field 11, which indicates half price for some amenities (if applicable).  I didn't think the water fee would be applicable, but I asked and the host said yes, half-price  for Golden Age and Access passports and that my fee would be $2.50.  Small victories!  I'll be sure to ask from here on out.
Ruidoso
I'd camped at elevation outside Ruidoso several times during my time in El Paso but somehow had lost those waypoints in OsmAnd+.    DC and I looked at entries near Ruidoso and the Cedar Creek site sounded familiar.  It wasn't;  the ones I'd been to were further outside of town, probably part of the 127a Ski Apache site.  
Cedar Creek was a tiny spot about 1/4mi from some nice big cabins, basically a turnaround loop for folks hiking the adjacent trails.  0-1 bars of Verizon, which was frustrating.    But it bought us a couple more days before we had to head toward separate destinations.   Tall coniferous trees tried to defeat the PV array but the old panels are stubborn.  When the sun cleared nearby trees late this morning I noticed the panels pulling 460w,  a respectable haul.  
In the site's plus column, there were bear-resistant trash receptacles.  The nearby sign indicated up to 3 days of camping with bears and cougars.  I set up the game camera but saw nothing interesting except on police patrol putting their lights on us at night:
I did see a hyena in the tall grass: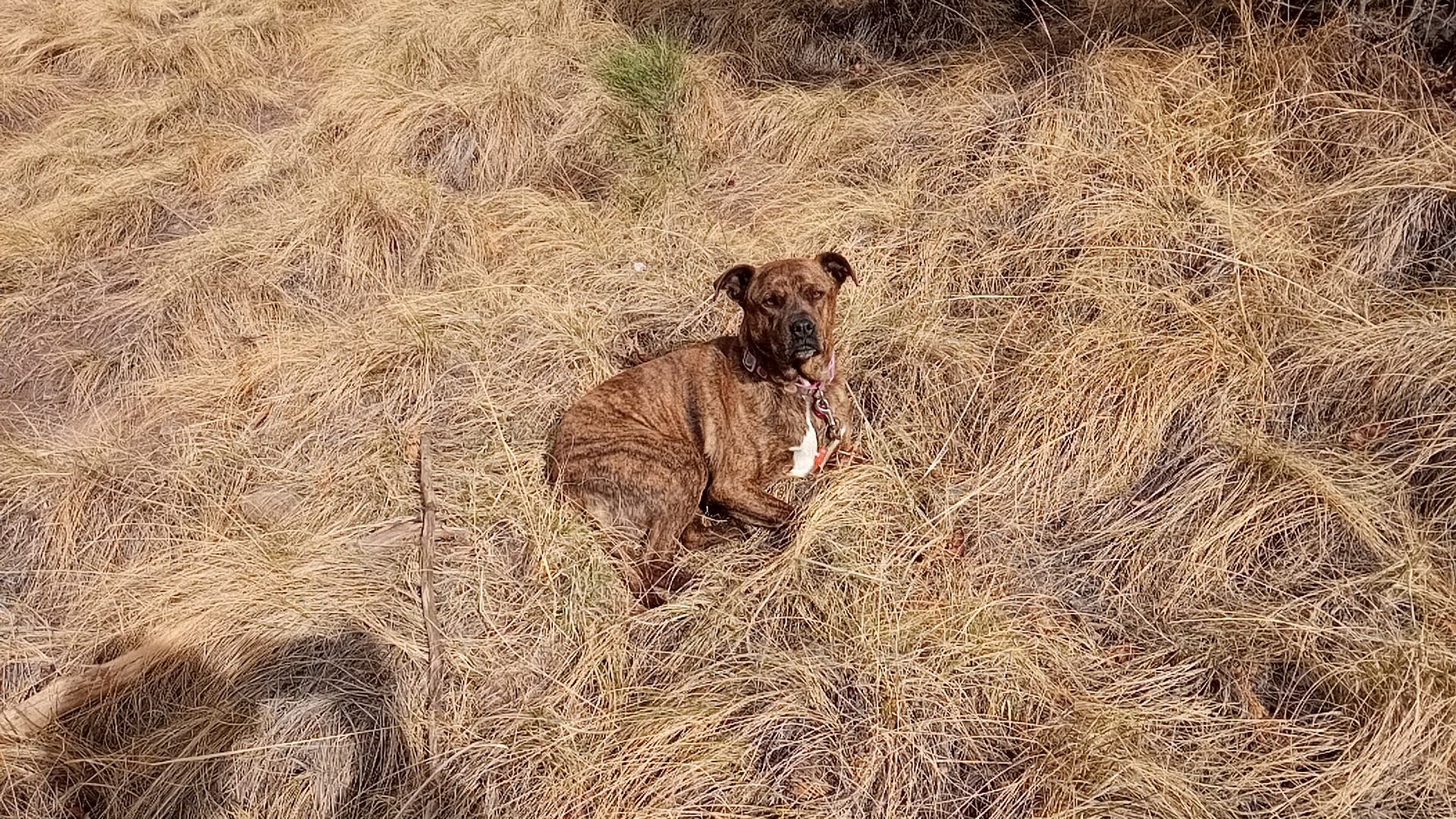 We walked a bit in Ruidoso and had a good hefeweizen and watermelon (!) cider at Lost Hiker Brewery, a dog-friendly place.  DC had her first Schlotsky's sandwich, and we shared an excellent "cold brew coffee"-flavored froyo.
We went different directions this morning after coffee so I will be solo a while until we meet up again, likely in SW Colorado.
Alamagordo
I came off the hills and it's a solid 15F warmer down here.   It was pretty windy so I set the cruise at 5mph under for the most part.    Minimal traffic and at least 2 lanes in each direction so I wasn't holding anyone up.  
Muffin and I are at a local park where she is sunning and I am making use of functional Verizon connectivity.    I'll stealth in Alamagordo overnight and continue to ELP tomorrow or Saturday.    I have the 2nd covid shot monday, and a lot of packages to pick up at the forwarder.