daily cardio: Laguna Cemetery geocache
I loaded up C:Geo (android) with nearby caches and headed to the nearest one, located in the Laguna Cemetery. Cemeteries are some of my favorite cache locations because of the history and the interesting markers. This particular cemetery was for the La Laguna mining community presently located under Mittry Lake a mile or so north of here.
We bopped down the road and chose our approach.
materials adjacent to the cemetery
overview of the cemetery
a closer look
I didn't find the cache for a couple reasons:
there were muggles (non-geocaching civilians) that arrived shortly after I did. It's considered poor form to search for caches within eyesight of muggles.
the cache was a multi, a type of puzzle cache where the initial location is only a clue to the final cache (or to another clue).
I detest multis, and forgot to exclude those from the cache download. The visit to the cemetery was worth the walk, though.
Kool Corner camping areas
We took a different route back and it allowed for some pics of how KC camping is arranged. Basically there are three levels:
ground level, a larger area which wraps around the plateaus in an L-shape. Bigger trailers and Class A stay down here because it is easier access. 10 RVs there right now. Maybe 2 acres in the main area and another acre in the wrap-around?
middle level, a small plateau about 20' higher than ground level. There were people here earlier but it is empty now. Maybe 1 acre.
upper level, a large plateau another 20' higher. 2 small travel trailers, 2 pickup campers, and two vans (including me). Probably 2 acres.
In this pic from left to right you see the ground-level wrap-around (two trailers and a car), the empty middle level, the upper level where the utility poles are (my van is on the far side and not visible), and the big irrigation canal:
Same spot but panned to the left so you can see the tip of the main ground-level area with the bigger trailers:
The main ground-level area:
To get to that shot we walked down a secondary canal and Muffin did her thing: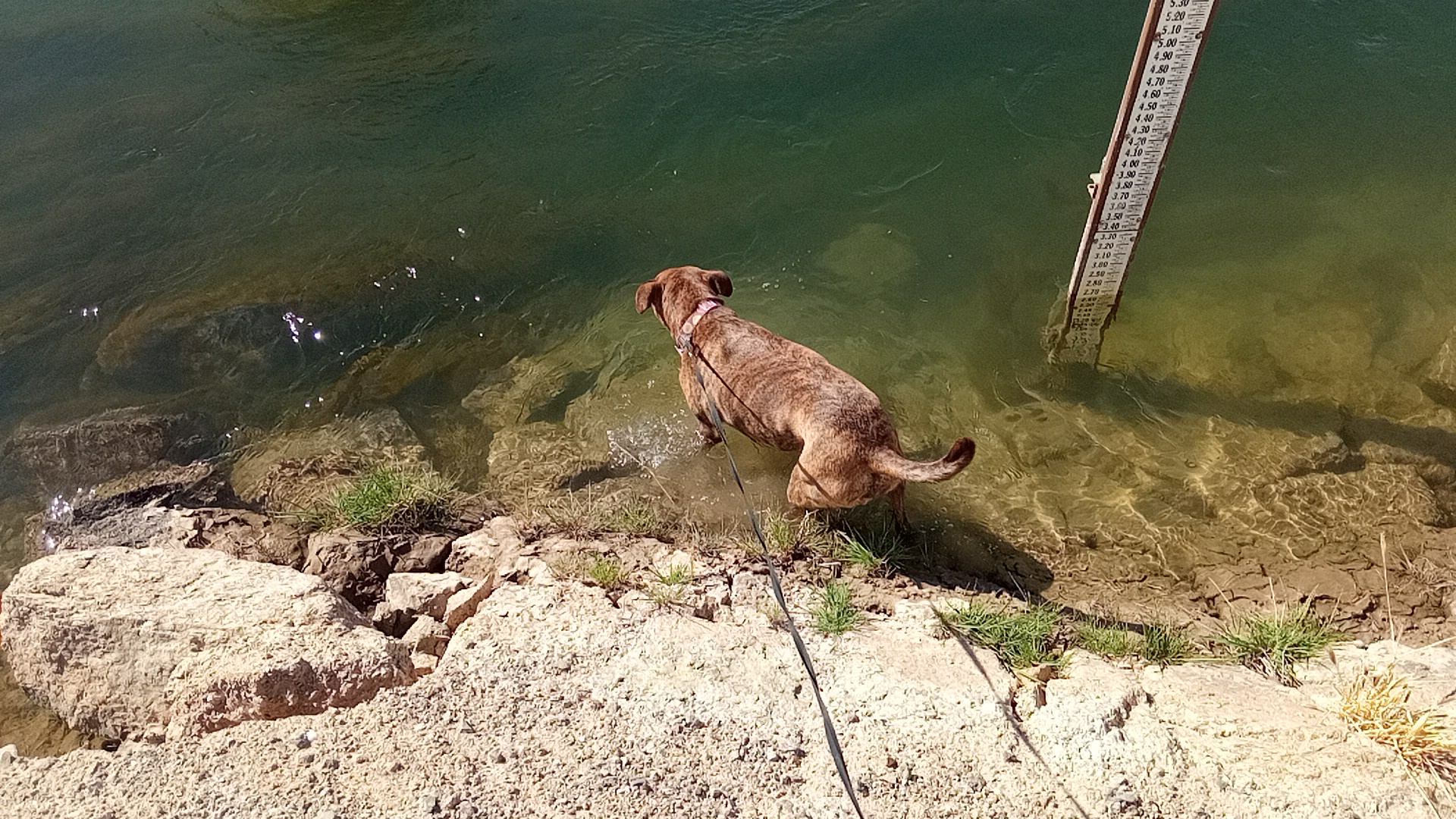 The rocks were slippery with algae so she hopped back out after a short splash.
kool corner
While we are on the subject, this is the complete wikipedia entry:
Kool Corner is a populated place situated in Yuma County, Arizona.[2] It has an estimated elevation of 154 feet (47 m) above sea level. > >
Alrighty then.