Made it to El Paso, terrible day of solar
El Paso
I skedaddled from Cloudcroft to avoid the hard freeze and light snow.
On the way out of town I stopped in Cloudcroft proper at the thrift store, where I got a 20% discount for being ≥55. I don't think it was my first senior discount but it was the only one that comes to mind. A bit of reality check, that.
There was a headwind so I reduced speed to 55mph for fuel conservation. The light early-morning traffic and two lanes in each direction meant I wasn't impeding traffic.
treats
I spent $131 at my favorite ELP beer bar, the Hoppy Monk. The server knew her beer and made good recommendations. Muffin and I sat on the chilly patio where doggos are allowed.
Sunday morning I will undulge in my other ELP luxury, menudo con pata at the L & J Cafe.
My budget is very tight but to paraphrase Jason Lotterhand, "sometimes you need to say 'good dog' to your body."
terrible solar conditions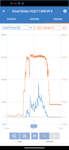 I don't think this was my worst harvest under normal conditions2 but it was pretty bad.
started the day at 53% SoC and only made it to 66%
total solar harvest was 720Wh, which is less than my nut of 1,000Wh for necessities3
peak wattage was 287w briefly when the sun was bright enough through the cloud cover
my mistakes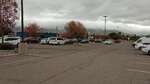 I made two errors that compounded the problem
I believed the forecast, which said it would be partly cloudy. In reality it was overcast all day, no blue sky at all. It was lightly raining most of the time. Pic to the right (PF parking lot) shows how low the cloud cover was. Clouds were obscuring the top of the nearby Franklin Mountains.4
… so I made that morning's coffee on the hotplate (~125Wh), ~17% of the day's total harvest
power use overnight
I ran the electric blanket all night and watched some shows before going to bed. This knocked 30 percentage points off the SoC, suggesting the system could take 2 consecutive days of tragic harvest before I had to charge by alternator.
today is already better
Today is legitimately partly cloudy. I already saw a peak 306w between the clouds before 9am. I think I will hit 100% SoC today but I will limit power use until I know for sure. Made my coffee this morning over propane. :-)
Update: sun peeked out again at 0930, for a peak of 530w. Probably cloud-edge effect but I'll take it.
Another Update: as I finish this (0955) we have already matched yesterday's 66% SoC. A very good sign.
comments
lemmy comment thread for this post
Martin House True Love (raspberry sour, Ft Worth) and Aurellia's Upper Valley Pecan Stout made in ELP. ↩

I'm not talking about anomalies like the wildfire smoke events ↩

My average use is closer to 2,000Wh/day ↩

The Franklins are the southernmost end of the Rockies in the U.S. The range continues on the Mexico side of the border with El Paso sitting in the break. El Paso del Norte refers to the gap being the "northern pass" across the range from the Mexican point of view. ↩