hailstorm and maxxfan damage
the hail
At 124 pm mdt, a severe thunderstorm was located near santa fe, moving northeast at 30 mph (radar indicated). Hazards include 60 mph wind gusts and quarter size hail. Hail damage to vehicles is expected. Expect wind damage to roofs, siding, and trees.
The hail itself wasn't that bad; I'd guess marble-sized. The sideways wind component was brutal; during the worst of it the hailstones were hitting my windshiield ~15deg from horizontal.
It was loud and Muffin was scared. I covered her up with a blanket which seemed to comfort her.
maxxfan took a hit
Toward the end of the rainstorm I noticed some spray coming through the maxxfan. This model has an integral snorkel/hood but strange angles and strong winds can drive some moisture through the maze.
I closed the lid but it was too late. After the storm passed the vent started spazzing out, a symptom I recognized as wet circuit board.
So I turned it off (to the degree it would turn off) and pulled the power plugs. I hung it up and put a small fan on it. After it was dry I took a plastic brush and q-tips to clean dirt and residual moisture off the board.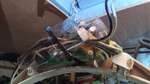 The right answer, I think, is to pull it apart and give it some kind of conformal coating. I don't have that here on the side of this hill. Instead, I remembered I'd seen a coke bottle under a tree.
I cleaned it up, cut it open and fashioned a crude rainguard out of it to cover the board. Held it on with a zipstrip. We'll see if it holds. If I do end up having to replace the board I'll coat the replacement before installataion.
comments
mastodon comment thread for this post