errands in Flagstaff, stove repair, water catchment
Flagstaff
I went into Flagstaff for water and pick up packages. Lowest gas prices I saw was 4.79/gal, which is a welcome change.
pf and goodwill
While in town I stopped at Planet Fitness for a hot shower and data downloads. In the same strip mall is a Goodwill. Looked for new Crocs to replace my dying ones but couldn't find any.
I've been meaning to pick up a waist pack with water bottle slots. This allows carrying a bit of water and a few items without a ventilation-blocking day pack. Found one at the Gooewill for $6, although admittedly I did have to buy water bottles for it (2x $0.99). The pack is well-made and listed on Amazon for $27 so I got a good deal even after buying the used bottles.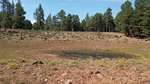 Tested it on a short walk to Drowned Timber Tank. The tank was nearly dry though the next week's rain should have something to say about that. The pack performed well.
stove
Two problems have developed with my single-burner Coleman propane stove:
one of the four pot supports is loose and one completely fell out. It is not clear to me how these little support blades are held into the burner assembly. Press fit? A spot weld so tiny I can't see it?
the burner assembly had become quite loose
These two issues together made cooking pots rather unstable. While at walmart I looked for a replacement but there were none. I saw JB Weld in the hardware aisle and read that it is ok up to 550F. I figured it was worth $5 to see if I could kludge the stove.
In the first pic you can see the rust on the blade and the burner heat shield where it inserts. One blade has fallen out and I am holding up the loose one with a finger.
I have a terrible little $10 Harbor Freight dremel clone which was probabely $5 on sale. I used it with a wire wheel to clean off the surface rust and gunk (see second ic). It worked but I had to use quite low pressure to keep from overloading the cheap motor. Still, the cheapie I had was better than the real Dremel I didn't have. I used alcohol to degrease and final clean before reassembly.
I started mixing the JB Weld two-part epoxy, which was Muffin's signal to jump into the van, run in circles around my legs and tie me up with her lead. I did get it mixed and crudely applied to the stove bits. To keep the loose blades from falling over while curing I held them in place with an alligator clip wire. (third pic)
The 24hrs cure time will be up in time for breakfast tomorrow so that's when it will get tested.
water catchment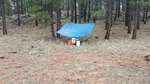 Since the monsoon season is kicking in a little harder I set up slightly better catchment: tarp and two buckets. It's been raining lightly for a couple hours and I've got a few gallons.
Catchment solves two issues: it directly preserves drinking water, and indirectly minimizes trips down muddy forest roads to refill water.
There is more to share but the gray day and sound of rain on the solar panels is calling me to a short nap.
comments
twitter comment thread for this post