relo: Williams to Flagstaff
errands in williams
I made a some stops in Williams on the way out of town Thursday morning:
parked near a local restaurant and used the wifi to update my devices
walked to the USPS to pick up general delivery (van registration sticker)
deli at Safeway to pick up something to eat for breakfast on the way
a pot pie (my traditional relo meal) to see if the dying crockpot was still functional
errands in Flagstaff
I spent a half day in Flagstaff.
planet fitness
Stopped by PF for a shower. Good thing I used the wifi in Williams because the PF wifi was down: it would pull a lease (eventually) but would not pass traffic.
I checked on the pot pie and it was clear the crockpot was only partially functional. Luckily there was a Goodwill in the same strip mall.
thrift stores
I stopped at that goodwill and several thrift stores along the way to try to find a replacement 3qt crock. There were overpriced 2qts (which would not hold my present recipes as-written) and overpriced 4qt+ that I really didn't want.
I got the sinking feeling I was going to have to buy a new ding-dang crockpot, which irked me.
I did pick up a small folding table to set up outside ($4.49) and folding barstool ($6.74) to replace my spacehogging stool. Since DC and I have been on a card-playing kick the past few months I picked up two sets of cards and 10 dice for $3.74. We have played Gin, Rummy, German Whist, etc. The dice will allow yatzee.
I also picked up a somewhat-larger (rated 520w) sandwich grill for $5.99. I'll donate my smaller one.
The inaugural grilled cheese worked well and the bread fit in the the grill completely. The bottom was a little more brown because it was in the hot grill longer while I was laying in the cheese.
water
I was able to source water at a local gas station.
walmart
Made a decent-sized food run, including some beef to do a meat loaf this week. Bag of Dog Chow, etc.
While I was there I dragged my butt, reluctantly, to the crockpot section. There were no 3qt in stock (boo!) and I even more reluctantly looked at the 4qt ones. I gritted my teeth and bought a new 4qt analog crock for a little under $20. Since the used ones were rare and overpriced the full price wasn't such an egregious hit. I put the halfcooked pie in the new crock and blasted it on HI until I got to the camp.
Whole Foods for Amazon pickup
I stopped at the WF to pick up some Amazon stuff. Normally I like to browse around whole foods but
covid has largly destroyed bulk foods areas, which is my favorite part
I'd already spent my monthly discretionary income at the thrift stores
I was tired and ready to get to camp
camping west of Flagstaff
The pine forests are lovely. The challenge, as always, is finding adequate solar exposure.
finding the sun amongst the trees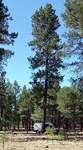 I don't know how tall the trees are here, but the smaller ones are probably 30' and the taller ones double that. For comparison, my van is 8ft tall at the roof (8.5ft with the rack and panels).
I used Sun Surveyor to find a spot with best practical sun (9:30am - 4:30pm). 7 hours of exposure is quite sufficient, particularly given the increasing elevation of the sun (and the elevation of the site). At any rate, the challenges of forest camping are why I bought the portables and replaced the worn out FLA with lithium.
I observed:
~30w all morning after sunrise, while the sun was peeking through heavy pine needle cover. Just enough to offset my background loads (0A net)
then 480w when the sun came out fully from behind the trees at 0940 (30A net). Since my batt is typically 50% DoD in the morning it would take 1.66 hours to get to 100%, assuming I don't apply any big loads.
So let's round that up to 2 hours of good sun required to get my bank recharged after an overnight cycle. Sounds doable.
making peace with freezing overnights
Once I realized that barely-freezing overnights are more likely to be associated with bearable daytim temps I became more of a fan. I still don't want hard freezes, but high-20s is ok with me now.
ground less rocky
The ground is much less rocky here, and therefore more amenable to catholes. There is precious little groundcover so I strung up the shadecloth to the north of campe. I'm not squeamish about such things but there is no reason to traumatize passers-by.
mobile data
0-2 bars of both V and Tmo here; and both generally usable.
I've been reading up on some less-expensive ways to get a more usable signal. More on that next week as my thoughts come together and I do some testing.
comments
twitter comment thread for this post