weather forecasts and logistics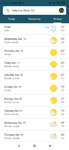 People who are already living in vehicles already know this stuff; I'm tipping my hand so the van-curious can see how I make decisions.
This screenshot is from Tuesday, Dec 14th.
temperature
High temperatures range from 62F to 72F, well within my comfort range.
Overnight temps in desert areas tend to drop quite a bit but low temperatures forecast to be in the 40sF with a jaunt into the 30s. Perfectly fine.
sun
There was rain on the 14th, and clouds predicted for the 15th. I chose to run my errands in Tucson on the 14th so the alternator could help charge the battery bank.
The 16th-20th looked good for sun, so I planned crockpot meals on those days. Since it's cooler cooking inside will add a bit of welcome interior heat.
16th - baked potatoes (crockpot hours, 5h x 150w = 750Wh
17th - reheated leftover potatoes for burritos (crockpot, 0.5 hrs x 150w, 0.5 hrs x 75w = ~113Wh)
18th - hard-boiled eggs (rice cooker, 0.5 hours x 300w = 175Wh
19th - planned red beans in crockpot, 5h x 150w = 750Wh
20th - planned rice or other grains in rice cooker
The 21st-23rd look overcast so I will probably head toward the Greater Quartzsite Area in that timeframe. The alternator will do battery charging heavy lifting.
wind
Wind doesn't show on this simple view. In general I dislike windy conditions, unless they are tailwinds while relocating.
changing forecasts
In reality it was 100% overcast all day on the 14th/15th, so it was a good thing I did my errands on the 14th.
It got much colder last night; it was 30F this morning and the dog's waterbowl had a frozen disk in it. Overcast still forecast starting the 21st so relo in that timeframe is still my plan.
comments
twitter comment thread for this post