I have a full load of water that only needs to last the next 8-15 days, depending on the weather.
I haven't been to a Planet Fitness for a shower since early August so I decided to rig a shower.
I've had a couple of those black solar shower bags that heat up in the sun, but the handle tends to rip off after a few uses. Even when only filled to ~2 gallons (my usual fill). If I get another one I'll consider hangig them in a more durable bag with the spigot sticking out. Like a hammock to support the bag.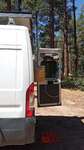 Anyhow, I kept the sprayer hose from the last ripped one and used it today on the water dispening bucket.
I ran paracord between the roof rack rails (2" steel box tube) and suspended the bucket. I decanted all but 2gal to make suspension and lifting easier.
Stood on 4x leveling pads to minimize mud splashing. Worked pretty well but next time I'll suspend the bucket much higher. The right rear door is open because the road is visible from that side. If there were people on both sides I'd have opened both doors. I'm not particularly modest but I can't afford to get a ticket for indecent exposure and don't want any infractions that could affect CHL eligibility.