personal record - 4 weeks without reprovisioning
full pull
I have theorized before that my normal 14d outings could be stretched to a month without reprovisioning. I just tested that theory.
food
I still had staples left (rice, beans flour, sugar, corn meal, etc) but most everything else in the pantry was exhausted. I still had food but I was out of food that I really wanted to eat. For breakfast on the last day I had some refried beans wrapped in homemade tortillas; tasted great but more work than I want to do for every meal.
I noted the outages on my task app so I could replace stuff when I went to town to reprovision.
water
I've already written about having unlimited water from the creek for cooking washing. Because of that supply I used only 2/3rds of my fresh water tank in 4 weeks. This works out to be ~0.79 gal/day for actual drinking.
This meant I had ~11gal left in the tank and 2x 7gal in aquatainers, for a total of 25gal of potable water remaining. Since my dependable free water source in SFE was no longer available, I decanted the 2x 7gal into the tank and filled the aquatainers with strained and chlorinated creek water. Since I typically use them for washing I think this was a defensible decision.
power
Power was no issue. Plenty of power, even when parked on the western treeline. No big surprise as this is day 1,813 offgrid.
reprovisioning
I came off the mountain late yesterday afternoon. There as a +13F difference in town compared to the hilltop. (64F vs 77F). Doing it this way allowed me to avoid the heat of the day, shop with Muffin in the van, then leave early the next morning.
Normally I spend $200/mo on food. After 4 weeks away I spent:
$22.97 at Food King, a Hispanic grocery: huge stack of tortillas, queso fresco, biscuits, salt, yellow onions @ $0.55lb, bananas @ $0.57/lb, 5# potatoes, bacon, duritos (a kind of fried wheat chip snack), etc
$136.83 main restocking at walmart - normal pantry stocking including sandwich stuff, cheese, french bread (dicounted $1.03), various sausages and meats for lasagna and other dishes, baking supplies like black pepper, baking powder, yeast. Chips, including chicharrones for breakfast burritos. Biggest can of coffee, etc. Splurge: stuff for gyros
$9.54 at the grocery next door to PF that has excellent manager's discount sections. Example: tub of ricotta for $1.12, so the cottage cheese I bought for lasagna at WM will go toward breakfast instead. Various salami/cheeses for cheap. Bag of Mexican squash fo $0.99. Some lunchables for $0.66.
$169.34 total
I also bought a ticket for the $1B Mega Millions, not included in total amount above.
side door switch
Lots of little things went wrong this morning, but none were substantial delays. The weirdest and most important was the sliding side door started reporting a NOT CLOSED error. Annoying, but get this: the van cannot be locked from outside or inside if it thinks a door is open. So all my shopping was done with an unlocked vehicle.
Muffin was sitting in the driver's seat and there was no blood or extra body parts around when I returned so I suppose no one tried to get in.
relo
It was 70F when I left SFE around 8am. Temps dropped about 7F as I got out of town and away from all that concrete.
new campsite
I had found a spot while out walking with Muffin when I was here in June and hoped it would be open. When I got to that path there were no tire tracks so I had a good feeling about it. It's far enough off the path that I shouldn't see many people out here. Very quiet.
The downside of being down any two-track is getting caught after heavy rains. The foreacast didn't show anything torrential, and by definition having a lot of rain would mean water catchment could extend my water supply.
I cheated and used the nearby trees to tie out the shadecloth. They are too close so it's not pulled out to full size. Not a big deal since that side is facing north, but I might try to rehang it later. Hence the ladder still being out. I'm really tired (see below) and didn't want to fight it at the moment.
weather
Sunny and quite warm this morning. I got as far east as I could get without backing off the cliff, for afternoon shade purposes. Definitely going to be warmer at 8,200ft than 10,000ft; the math suggests +6F but I think it will be closer to 10F. Still better than SFE proper.
Hopefully the temps will continue to sneak down and allow me to camp on BLM/NF land just outside SFE by the end of August.
solar
Parked on the west treeline, as described above, using Sun Surveyor to predict the path of the sun. . Since I'll be in forests for another month at least I climbed up top and reconfigged the panels in parallel (3x 30.3Vmp).
water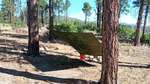 When I got to the spot I set out tarp water catchment just in case. Within a couple hours there were two rain showers and the tarp caught about a quart. It was enough to settle the dust out here but I saw no runoff. I went out to see how the tarp was doing and I think it's not optimal. Will fight that battle later, too.
data
It's bizarre to have reliable data.
I've added a status page to the site and to the site menu. There is a little script watches for a moment of connectivy then injects a file from the laptop into the site. Used to good effect when data fell over up there on the mountain. It's mainly to get a message out that I'm alive but I might update it more often.
the side door problem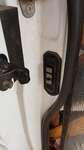 From top to bottom:
electrical contact
electrical contac
pushbutton
electrical contact
I think the contacts are for powering the locks. The Pushbutton is what detects if the door is open or closed. If I force the button in the DOOR OPEN error clears. Not sure what approach I'll take with this, but I have ~14d to think about it.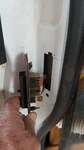 Update: I watched a video on YT that suggested the plate can pry off. In this case you can pry from the bottom, angle the bottom out, and lower the plate out of position. Shim for better fitment, then place top tab back in position and press bottom fastener into place. I used some double-sided tape and some dental flosser picks (!). When I come up with a better shim material I'll redo it. In the meantime the door error is gone and the van is lockable again.
dehydration
I guess relocation is more stressful than I am aware; my sleep gets disrupted and I get severely dehydrated. I've been slamming water all day and just finally recycled some. I might have slept 3 hours last night. Normal relo stress + the worry about not being able to lock the van at night when stealth camping in the city.
comments
mastodon comment thread for this post
lemmy comment thread for this post