discount grocery, discount tire
Sunday the 12th
I was in Yuma on Sunday (?) doing a reprovisioning and PF shower. It was not a day of unending fun.
The plan was to get to town early and get everything done by the time folks let out of church.
not really a discount grocery
My first stop was Smart and Final, which was described by Google and word-of-mouth to be a discount grocery. Didn't seem that way to me, most prices at or just above walmart pricing. I did buy some things ~at walmart pricing:
can of menudo
can of Mexican fruit juice (10c cheaper than walmart)
a couple other items, not memorable or noteworthy
that sinking feeling
As I pulled out of that lot and toward Walmart I heard a whomp-whomp-whomp sound. Got out and my driver's rear tire was utterly flat. It wasn't entirely unexpected, as these were the original fronts from 2017 and were pretty ratty. Not much tread left to protect them from pointy stuff.
I changed the tire in the gravel lot of church that was filling up around me. The pastor was kind and I told him I'd be out of his lot soon.
Jacking up the rear of filled cargo van isn't easy, and I'd just topped off the water tank. D'oh! Ended up having to jack it three times:
jack started to shift in dirt - borrowed a cinder trim block to get firmer footing
interference between jack and van
success
This tire change put me an hour behind getting to…
walmart
Why are all these people here instead of eating lunch after church? Oh, shopping for the Superbowl. Forgot about that.
Prices seem to be coming down on several items, most notably eggs. I bought 18.
Wednesday the 15th
discount tire
I checked pricing on tires; they were all pretty high. The all-terrain ones weren't much higher than normal work van tires so I sniffed around those.
Folks on the Promaster forum have touted the BFGoodrich All Terrain T/A KO2 but historically they only made 245 rather than the LT225 /75 R16 the PM needs. Folks were using differnt rims and modifying the wheel wells to allow clearance. Luckily by the time I needed them Goodrich started making them in 225.
The Michelin Agilis CrossClimates on the front are in great shape and have better grip than the OEM tires but I'd like better offroad grip. So CrossClimates go to the back and KO2s up front since the PM is front wheel drive. This would throw the tire jockeys a little off their game (see below).
I paid the ~$500 and set up a web appointment. Went pretty well except for the spare tire. Knowing that most shops are unfamiliar with the PM I took out the spare before arrival and placed it in the cargo area. When they were wrapping up I mentioned I could rehang the spare since most hadn't seen the procedure. "No", he said, "I've done a few". He hadn't, and came back to me in confusion about where the tire goes. I ended up rehanging it in their work bay while they finished with the last tire. Probably against their insurance regs but at least that one guy has seen it done now.
There was also some confusion regarding putting A/T tires on the front of a vehicle. They aired the A/T fronts to rear pressure (90psi) and left the rears (moved from the front) at front pressure, 65psi. Good thing I checked this in a parking lot a little later.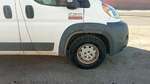 I didn't notice any increase in road noise on the way back and the GPS/speedo still agree. Feeling good about the change.
Green Tree
Before returning to camp I stopped at Green Tree, and honest-to-doG discount grocery
matzoh crackers $0.25
Jimmy Dean sausage chub $1.25
2lb pork loin $4
various protein/granola bars $0.10 ea
Betty Crocker scalloped potatoes $0.50 (made this for dinner today with powdered milk)
Dot's pigskins $0.60
Ritz peanut butter crackers $0.50
Reynolds parchment paper $1.50
etc
Took some of the sting out of the tire expenditure.
comments
mastodon comment thread for this post
twitter comment thread for this post