I am in El Paso for the 1st round of Covid-19 vaccination at the V.A. tomorrow morning. Even though my budget has taken a savage beating I had breakfast at a local restaurant, L & J Cafe: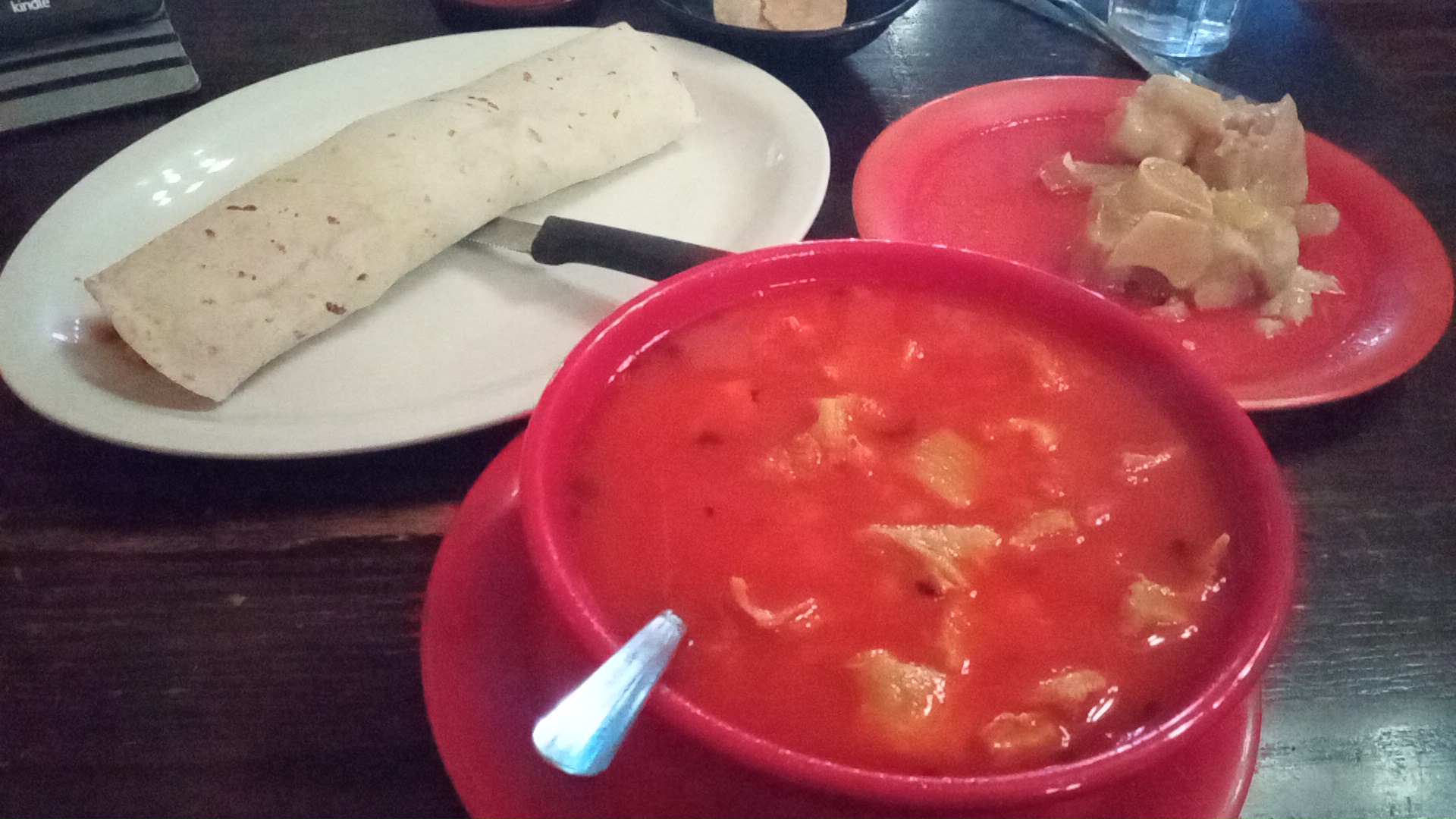 $13.20, including the con pata upgrade
The picture does not capture the magnificence of this breakfast, a tote (giant) bowl of menudo con pata (with pig feet, plated on upper right) and a ginormous egg and chorizo burrito. I didn't eat the burrito there (too full) so I brought it back with me. I put a tape measure on it and it was a 10" burrito, in case you wanted some scale here. Easily enough for two meals.
The menudo was flavorful and brimming with tripe. The cartilage and fat on the trotters was decadently rich and tender, and soaked up the angry red broth nicely. The rough tortilla and contents had hints of scorch from high heat, evidence of a griller's art that makes me irrationally happy.
Overall a terrific experience - excellent food, gentle and lovely people (both employees and customers), a culture of respect and family. Serious about Covid safety. Mexico visible in the distance. Even the cop who asked to borrow an unused chair approached the quick interaction with respect.
I didn't realize how much I missed it. I start to tear up a little but I was mid-menudo so the locals probably just thought the bowl was too picante for the gringo. In reality I was overwhelmed by the beauty and virtue of the people here and the quiet dignity of their lives. I have one tattoo, and it includes in the sword handle the starred mountain of El Paso; I carry this place with me even when I am not here.
I've said it before: America would be better off if it were more like El Paso.