logistics: next move, packages, CA
My 14d would be up here in American Girl Mine on Sat the 6th, but the Traveling Vet referral came through, so I have an appointment in Yuma on the 4th. It's a fasting appointment (annual exam blood labs) at 0-dark-thirty Thursday morning and I'll stealth nearby Wednesday night to ease the pain of fasting and locating the place.
I have some Amazon packages coming in on Wed, too, so that fits nicely. I also have a ship-to-store pickup from Home Depot on Thursday the 4th. Tangles Muffin got her lead wound around the panels and knocked them over. One landed flat with no issue; the other landed on a rock and the face shattered. Still functions near 100% but I am replacing it before glass starts falling out, or rainwater makes ingress, etc. I suspect the loss of solar harvest caused by the broken glass is hidden behind the losses already incurred by [using the panels on a 10A mppt](https://boondockplan.wordpress.com/2020/11/30/adding-solar-panels-pt-2/).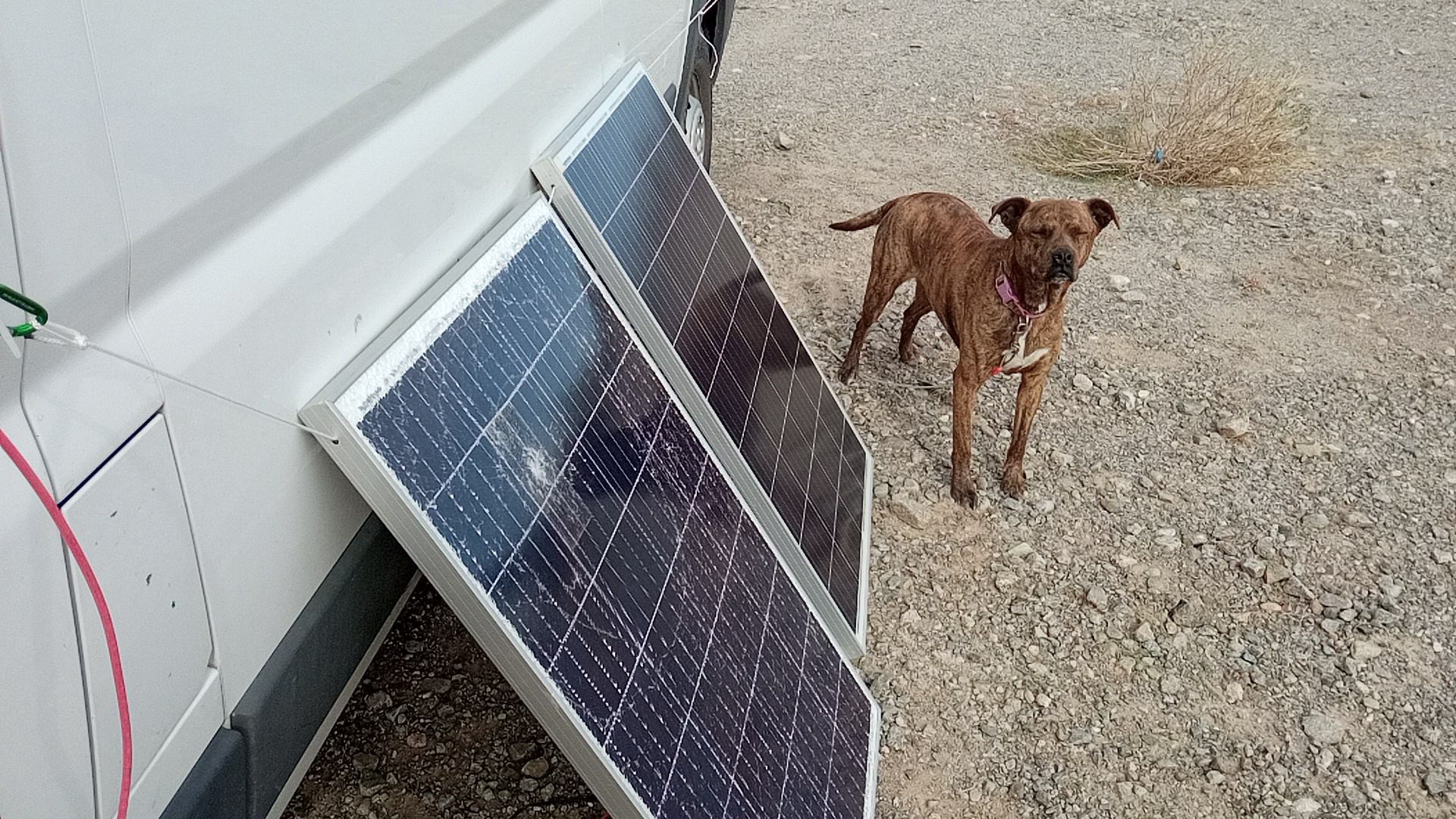 trying to look innocent
After this happened I shortened her lead and also drilled the frames to allow paracord to thread through and hold the panels safetly upright. Should help with wind, too. We had 45+ mph gusts the other day here at Agm and they stayed sitting pretty.
I nearly out of fresh laundry. Later this morning I will make a run to a nearby rest area that is supposed to have dumpsters and water spigots. That will allow me to get rid of trash and max out on water. Then I'll handwash a few days essentials in the laundry bucket to hold me over until a laundromat. I could toss the broken panel in the dumpster there but I'd like to leave it beside so someone can hork it for experiments or as a free short-term solution for their power needs.
I haven't given serious consideration to the next spot, other than to GTFO of California. A return to Kofa (Palm Canyon?) seems reasonable, and from there maybe back through Q and on through Phoenix or somewhere I can get this oil pump servo sensor repaired under warranty. The only FCA dealership in Yuma has spectacularly bad reviews on its service department.
And from there it's time to start planning for spring. By the weekend temps will be in the low 80s here, which is a bit more than I like.