rough evening / easy relo to Santa Fe/ Planet Fitness
It was a bit of a rough evening. I'd broken down most of the camp for an early morning departure for Santa Fe.
It was completely dark outside when the camper was pinned in at least one vehicle's headlights. Some idiot weekenders had decided to head to the NF in the dark on a Saturday night. Rookie mistake (or idiot mistake).
They kept the headlights on for about 30 minutes while they stomped around on the edge of my campsite. I think these douchebags are about to jam themselves in here next to me.
They did, after blocking the forest road for about 10 more minutes (backed up vehicles waiting to get by. They set up in my site about 50' from my camper. I was leaving in a few hours and decided to let it go. I considered breaking camp that night but Taos is not a big town and I didn't know if the gas stations would have 24/7 pumps.
Then ANOTHER "toy hauler" right jammed into the spot.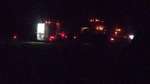 Then, wait for it……
They cranked up their Champion generator. I did not put a shotgun slug through the generator.
morning with turkeys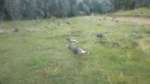 It was raining lightly this morning and the camper was surrounded by turkeys. There was rain and dust on the back window so the pic is blurry. Hopefully you get the idea.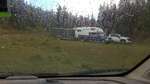 I did not burn down the invaders' rigs on my way out.
taos
Stopped at an Allsup's gas station on the way out and bought a couple breakfast burritos for the road (made my own coffee). Gas had risen to $3.20 but I didn't want to make the SFe run on my quarter-tank.
I saw a grocery store and made a quick stop for a couple turkey pot pies to keep the crockpot busy on the drive. Turkey on the brain, I guess.
It stayed cloudy on the way down so I was grateful for the voltage-sensing relay that charges the house bank from the alternator.
Santa Fe and Planet Fitness
I made it to SFe and found the Planet Fitness. Most of them have huge, garish signs but I had to actively look for this one. Good news is there's a pho join next door; bad news is it's closed on Sundays. :-( That's ok, I'll be back several times.
This PF visit gave me a chance to try out my bandwidth-conservation plan – my data allotment will halve in October (cheaper plan) so I need to maximize wifi opportunities. Normally I'd connect to the wifi before going in so stuff could be updating/downloading while I take a shower. In this case the PF has a password on the wifi so I couldn't get that party started.
Here's how I handled it:
in PF

started the Pi DVR scanning for local OTA channels (found some, but they are pretty weak except the local Spanish-language channels)_
checked in, got the password
downloaded podcasts and started app updating on the phone, hopped in shower
finished shower, started downloading YT and Amazon videos in parallel

back in the camper

updated laptop
updated chromebook
It worked pretty well.
local park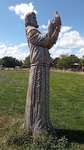 As is my usual practice I found a local park where Muffin could get a walk. Very few stickers in the grass, to her great relief. There was this neat wooden statue, maybe 8' tall. No nameplate but I think it must be St. Francis because of the birds in his hands.
comments
twitter comment thread for this post