remailer, cards, and packages
I've been using iPostal1 for mail forwarding since 2018. Mail comes in and you can see a pic of it; choose to trash it (free), scan it, shred it, or bundled it up into a shipment and have it shipped to whereever you are.
This particular branch is located in El Paso, so whenever I know I am passing through ELP I have discretionary packages shipped and pick them up in person. Much cheaper than having it remailed somewhere. The forwarder will hold mail for up to 30 days at no charge.
Anyhow, I am planning on being in ELP in October so I can start having some stuff sent there for local pickup.
cards
Around 2017 I had some cards printed up because it was an easy way to give out contact and blog info at the RTR or whatever.
I finally used them all up and wanted to order more. I remembered the last set was $10 from Vistaprint so I tried to log back in and make new cards. The password reset email didn't work (twice).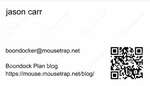 So I started looking around and found gotprint. I made an account, laid out the cards, ordered 500 for $9.20 shipped. After I got the order confirmation email from gotprint the vistaprint emails finally showed up. You snooze, you lose.
The pic is a screenshot from the online card designer software. I assume it will look something like that.
thoughts on mobile data
I don't actually talk on the phone; I use data. My US Mobile Verizon MVNO started out in 2018 (?) as a $30, 8GB deal. Over time the data allotment and price grew to where now with taxes It's a little over $50.
I missed this month's cutoff, but I changed my plan to be data only, 15GB for ~$32/month. That will give me room to add in a $15/mo 2nd carrier (AT&T). If Red Pocket could get it together their 3GB, $15/month annual deal would be perfect, as it comes with unlimited data at 2G (typically 128kbps although 56kbps is sometimes seen). I don't care about speed as much as I do about having a data feed in the boonies. I'm already using aggressive bandwidth-conservation techniques.
3 year vanniversary
I didn't realize it, but mid-august marked the third year I've been living in the van.
Some stats.
1120 days boondocking
1082 days on 6v GC2 bank, or $1.68 per kAh
286 days on Do Not Disturb

The main array's output (aka system demand) average is ~1.75kWh/day.
Last month's minimal travel is paying off; August expenses are $417, well under the $500 budget.
comments
twitter comment thread for this post