on the move: south from Leadville
The weather forecasts weren't clear beforehand, but it looks like by Wednesday temps will drop a bit. That'll be welcome because I'll be dropping in elevation as I leave Leadville. On my way out I noticed most of the sites were empty. I had also noticed the (welcome) decline in numbers this weekend. Much quieter. I suppose this means the school year has started.
I planned out my errands in Leadville to minimize the amount of driving required.
propane
I found the one place in town that fills propane tanks. $22 (!) for 4.1gal means it was ~5.35/gal, the highest I've ever seen.
As the economists remind us, it is better to be able to buy propane at $5/gal than not have any to buy at $3. It does suggest there is room for competition.
grocery
I spent $114.81 at Safeway, chiefly cruising sales, house brands and "used meat" (manager's markdowns before expiration). I spent about $20 extra on comfort items like chips and salsa, pigskins, etc since I've been feeling a little deprived.
My checker was the pick of the litter. Wearing her mask on her chin and talking with people several lanes away, she bagged my eggs and handed to me so I could put them in the cart where I wanted them. So far, so good. "Here are your huevos", she said proudly. "I know a little Spanish from living around here."
Yeah, in this context that doesn't mean what you think it means.
I tossed the goodies into the van and loaded up the crock with pot pie. This time I decanted 2x Banquet chicken pies into a foil-lined medium bowl. I set them on their edges leaning against each other.
laundry
Used the same place as last time. Put away the groceries while the washer was running, then took another dollar-a-minute shower while the dryer was (not working). I put in an extra quarter into the dryer to get 6 more minutes since the clothes weren't dried last time. Still werent. This is the first commercial dryer I've ever seen that couldn't dry clothes in 30 minutes.
Matchless Mine
In Dallas in the 80s there was a mine-themed restaurant called Baby Doe's Matchless Mine. Apparently there were several of them around the country.
The actual Matchless Mine related to the actual Baby Doe is about 2mi outside Leadville. After laundry I drove out to see if I could see the exterior for free, but it is closed on Mondays.
water
On the way out of town I tanked up with water for $5 at the Leadville sanitation district again. Probably not necessary but $5 is a decent price and I expect I'll be running the evap cooler a bit as I drop in elevation.
Buena Vista
The total drive down to the Amazon pickup point is about 2 hrs. Today I drove about 1/3rd of the way and stopped. No rush.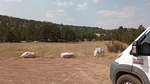 This campsite is a dispersed site near the Arkansas Headwaters Recreation Area. There are 2 bars of Verizon and 2 bars of Tmo. Using the Tmo, judging I will have the use of it less often (limited coverage compared to V) so I should use that data chunk first.
Ie will be about 85F tomorrow (ugh) but would be hotter at lower elevations so I might stay until Wednesday morning (1.5 days). By then it should be cooler and my package should arrive so I'd need to head out again to snag it.
I did a minimal setup (set up water station and dog bowls) and put my clothes away. The damp stuff when on the big rocks and dried quickly.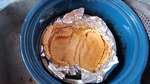 At 3 hrs I shut down the crock and allowed the pot pie lava to cool a bit. As satisfying as ever and costs less than the MC version.
tire repair
The tire I had repaired is holding up. I'm pleased because I <10k miles on this set of Michelin Agilis CrossClimates and I like them. It'd be nice to get full use of them.
comments
twitter comment thread for this post