holding pattern outside GJ
Bad luck, and a bad place to have it.
I was straining at the bit to get out of the Grand Junction area; I never meant to be here, I don't like it, and it's hot AF.
amazon screwup
Originally I was going to get out of town on Monday, but Amazon and/or UPS screwed up delivery of my order. The THIRD time I've tried to have it delivered, mind you.
They are saying it will be delivered tomorrow but I strongly doubt it. I think Amazon never shipped, the same screwup they did in Albuquerque: label created, never received by UPS.
So I am tied to GJ at 4500' waiting in vain for this errant package which probably won't show. I found a spot outside town that is away from the concrete heatsink at least.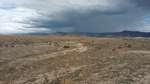 Mid-80s and unconfortable, but at least it's near an airport so I can watch small civil aircraft go by. One way or another I'll only be in this spot for 24hrs.
new solar controller screwup
While waiting on the above package this morning I decided to install the new 50A controller. It's huge, you could beat someone to death with it.
Moved stuff out of the van, rearranged the power wall to fit the bigger controller and…. during installation one of the connection terminals snapped off. Dead in the water with that terminal broken.
I emailed the seller for guidance (none came). I ordered a replacement and will attempt to return the broken one when I am in town tomorrow not getting my package.
The replacement will be in GJ around July 9th.
solar limping again
I put the 20A PWM back in and disconnected one of the panels. In this arrangement I can get about 250W out of it. At the moment it's 80% overcast so I'm barely holding 13v. I'd rather not set out the portables for just one day but I think there's no choice.
Panel Isc is 8.85A, and (because of the shape of panel power curves) running the panel at PWM voltages places it pretty close to that. Good sun would be ~17A and it broke 20A a couple times day due to "cloud edge effect". I'm thinking about picking up a 40A pwm for backup purposes, since that would allow me to run all three panels in parallel with a bit of room for fluke harvests. Only about $30.
actual limping
Did something to my left ankle or heel; can't tell which. Not fun, although I wouldn't be hiking much in the heat anyhow.
holding pattern
I don't see any choice but to return to the FS land near Domiguez NCA since it's the closest area over 7k'. There isn't enough camping on the mesa to sneak back in there.
I considered sending the replacement controller to Denver but there are wildfires between here and there (!), and the highway has also been closed due to mudslide (!!). I think it has since reopened, but the road and backup don't sound like fun.
I know the controller can be successfully delivered to GJ general delivery because it already worked once.
The other option would be go head back through Farmington toward the Sante Fe area. I'll make that decision by the 9th when I go back in town for the replacement controller. Technically the replacement replacement controller.
silver lining
While I had everything pulled out I put new terminators on the big MSW inverter cables. I had broken the prior set when I took everything out during the original controller troubleshooting.
So now I could use the big inverter to cook…. if I weren't running on limp power. :-( I've been dragging around this rice cooker and haven't been able to test it.
update Jun 30
UPS tracking now says "out for delivery" so it might happen. Looks like Amazon finally shipped it:
Jun 30	9:38 AM	Grand Junction, CO, United States	Out for delivery today
Jun 30	5:09 AM	Grand Junction, CO, United States	Processing at ups facility
Jun 29	11:53 PM	Grand Junction, CO, United States	Arrived at facility
Jun 29	9:16 PM	Price, UT, United States	Departed from facility
Jun 29	8:36 PM	Price, UT, United States	Arrived at facility

Going to break camp and start heading back to town so I am there when it comes in. Then up into the mountains to wait for the replacement controller.
comments
twitter comment thread for this post