Pre-coffee, but my timeline was something like this:
travel trailer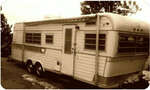 From 1988-1990 I lived in a travel trailer, a 22ft (?) Holiday Rambler of late 60s or early 70s vintage. Looked like the one in the pic on the right.
I bought it while I was in the Army so I'd have a place to live on the family land when I got out. I think I paid $5k for it. I was glad to have it because I exited the army with a ready-made family.
Hotel Ranger
I traded a Suzuki DR650 dualsport for a Ford Ranger with 160k miles, title for title. Blue book prices were $40 apart so we swapped.
I found a Fiberine (?) fiberglass camper shell for $25 on craigslist because the guy's wife was nagging him to get it out of the back yard. I replaced the locks (no keys came with it) and the gas struts that were dead. I did a minimal build in it:
sleeping platform (3/4" scrap plywood over 2x6" slats in the bed supports
60w panel on the roof (~$250 at the time!) and a Genasun 5A MPPT ($100). The Genasun was early enough in their production that the serial number on it was hand-written.
grabber pole made of 6ft of PVC with an L-bracket hoseclamped on the end. Great for pushing/pulling stuff into place without climbing in
underbed storage tote, the kind that goes under your residential bed. Two fit neatly side by side and stored stuff nicely.
campervan retirement
planning
2015 - started thinking about a campervan retirement ~2028, reading forums, posting on /r/vandwellers (different username)
2016 - research intensifies, RTR.
bought a van
2017 - bought vehicle, started the build, RTR
I stopped buying physical objects (other than food and other consumables) to start reducing Stuff.
going full-time
2018 - transferred job to an area where I could live in the van and save money, RTR
snowbirding retirement
late 2019 - work got shitty, realized I had enough $$ to retire early. I retired in Dec 2019.