Yachats
The wind finally died down late yesterday.  Before that the rain was coming down sideways, as the drop patterns on the windshield illustrate: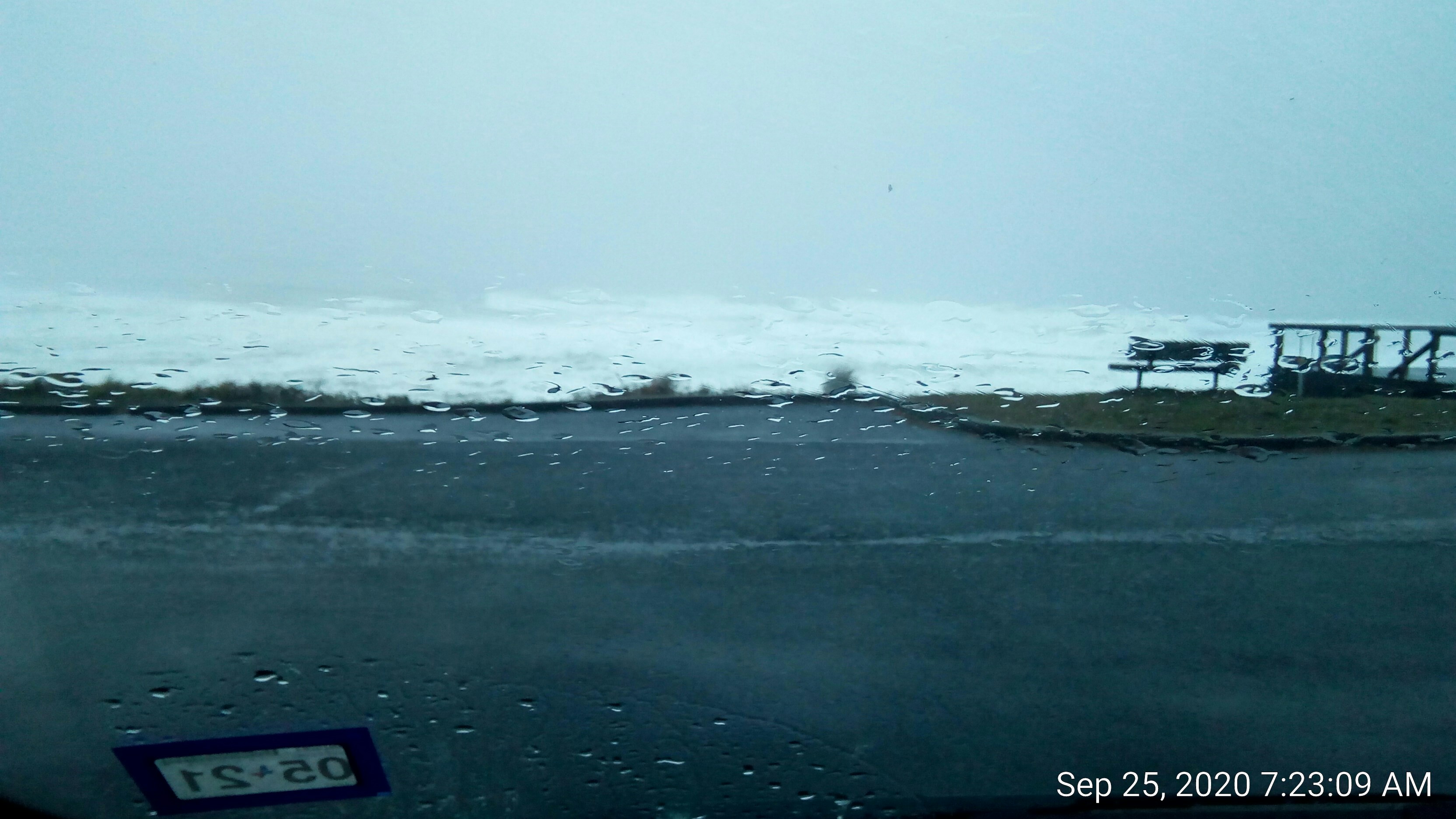 Since the park was day use only, I headed south looking for a pullout.  I found one in the dense fog and made it home for the night.
There was a lighthouse in the distance but it couldn't get through the blackout curtains in the van to disturb my sleep.  When I woke up the fog was mostly gone.  I looked over the rock wall and saw it was on the edge of some pretty impressive cliffs: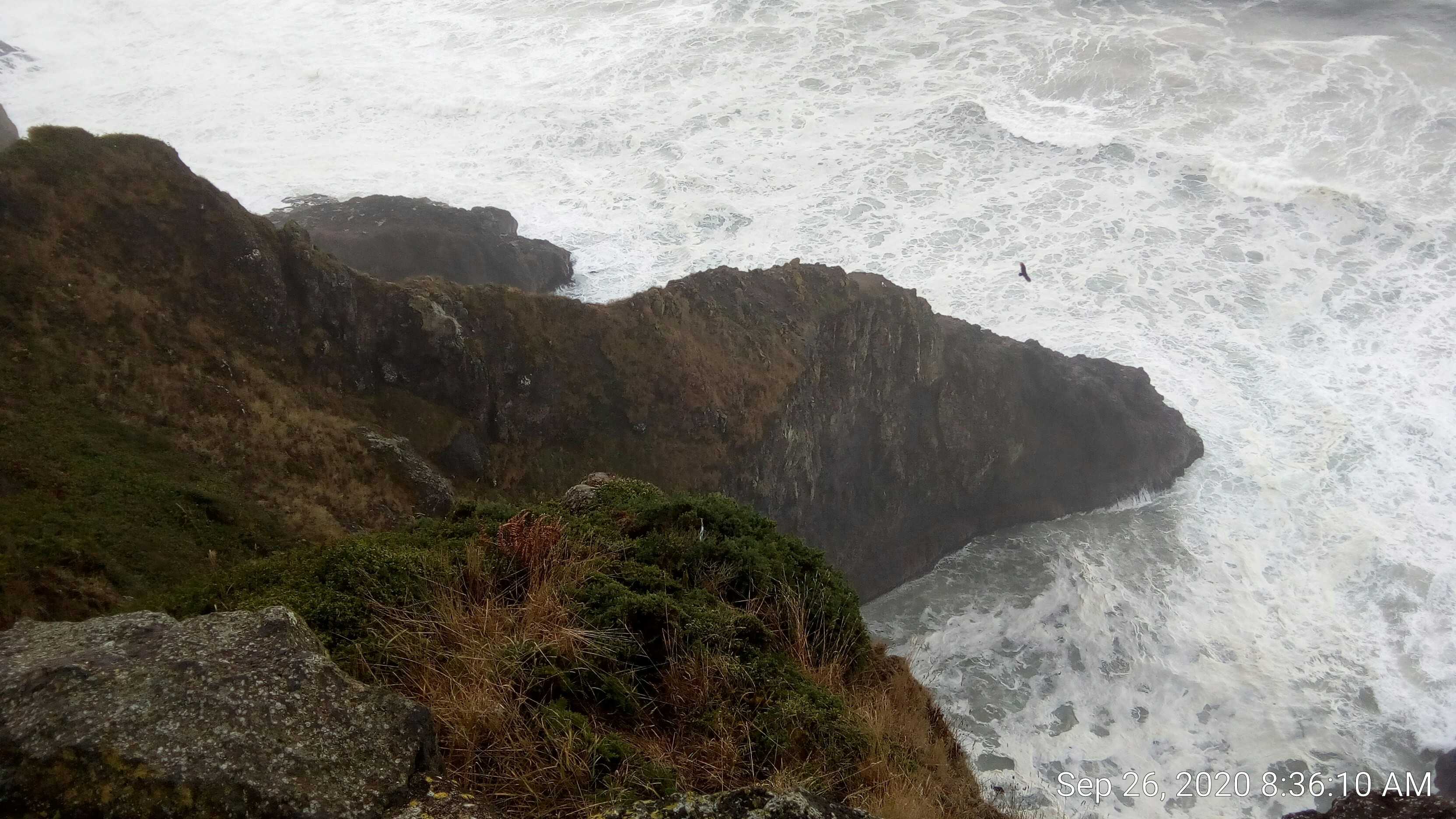 [caption id="" align="alignnone" width="3328"]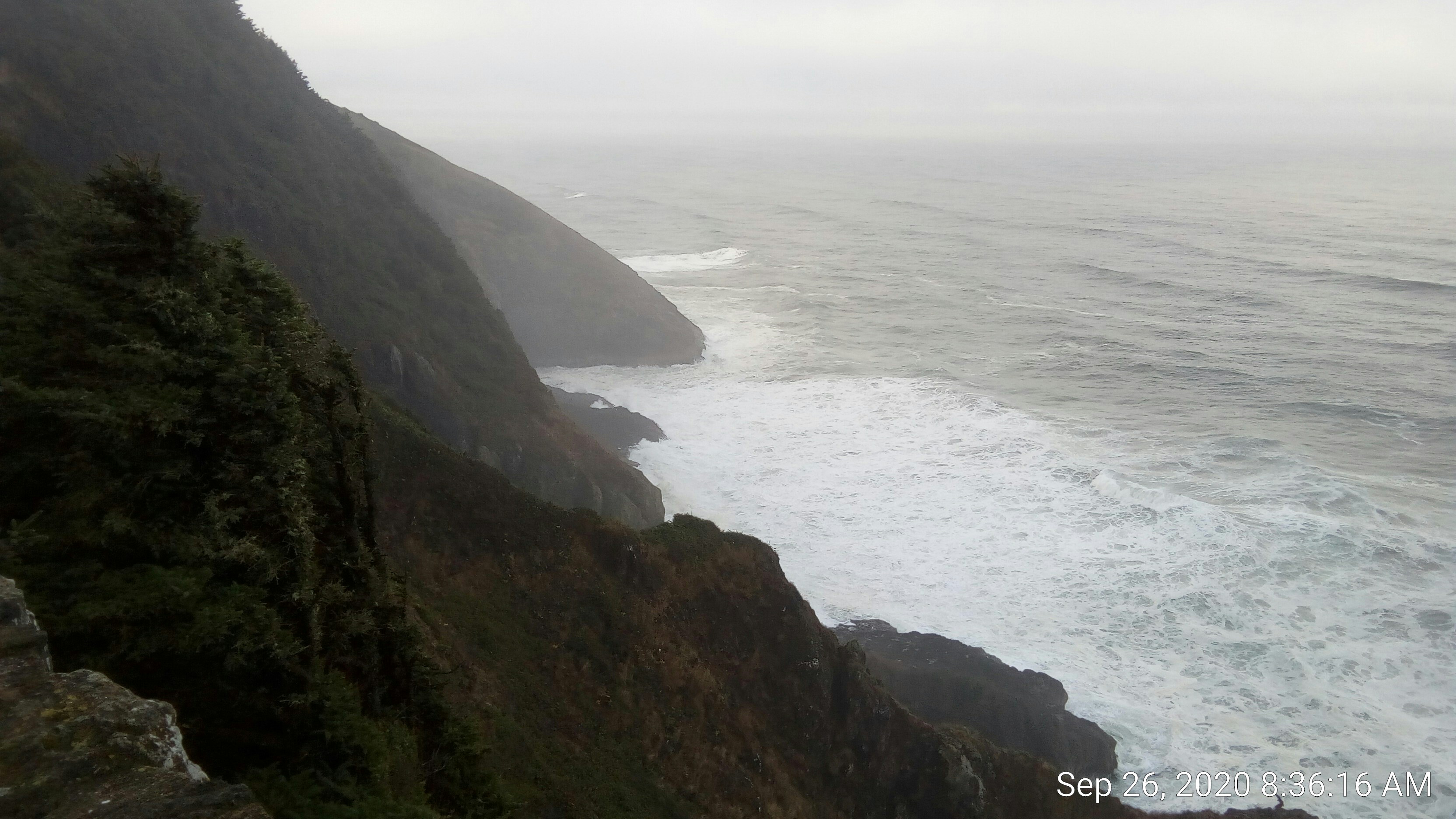 rock wall visible in bottom left[/caption]
Walked the dog and headed south looking for a day use area with some features, in order of importance:
 open skies to catch the forecast improved solar conditions (partly cloudy > overcast)

trash receptacle

hopefully a bathroom
It turns out this spot was just north of Sea Lion Cave, a local attraction.  Sea lions are loud and smelly enough outdoors;  not sure I want to be in a semi-enclosed space with them.  It was early anyhow and the attached building wasn't open yet.
Hecata Beach
Hecata beach is an unincorporated area outside Florence, OR.  The area is minimal but is wide open to the skies.   By 11am I was pulling over 279w in partly cloudy conditions. 49% of rated power.
Found a spot and took Muffin out for a walk on the jetties.   This shot is from one jetty looking toward the next one.  The plaque describes the CoE project and says the rock the plaque is on weighs 25 tons. (!).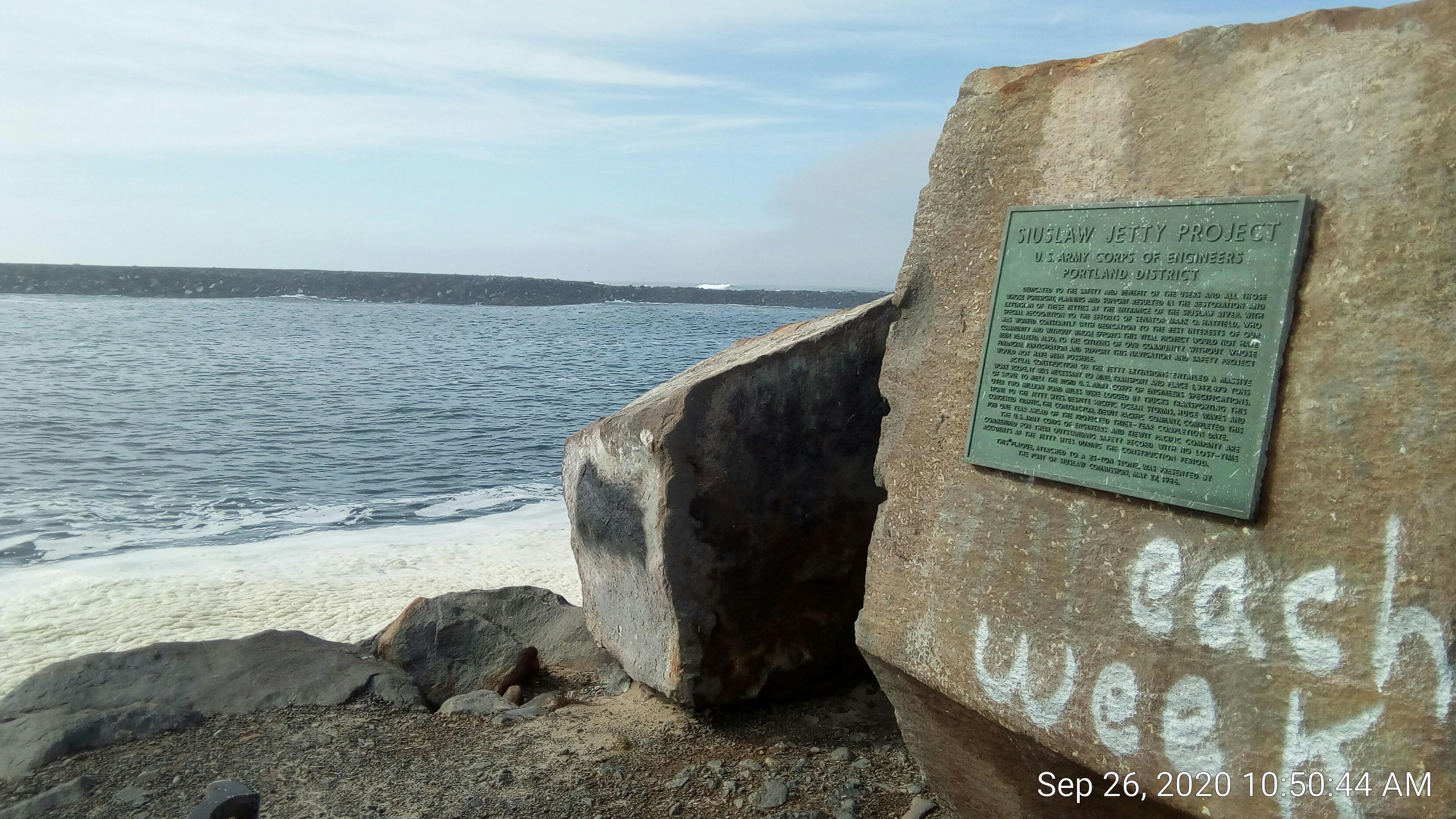 I don't know what the graffiti means.
Coming back from the walk you can see the backside of the rocks above: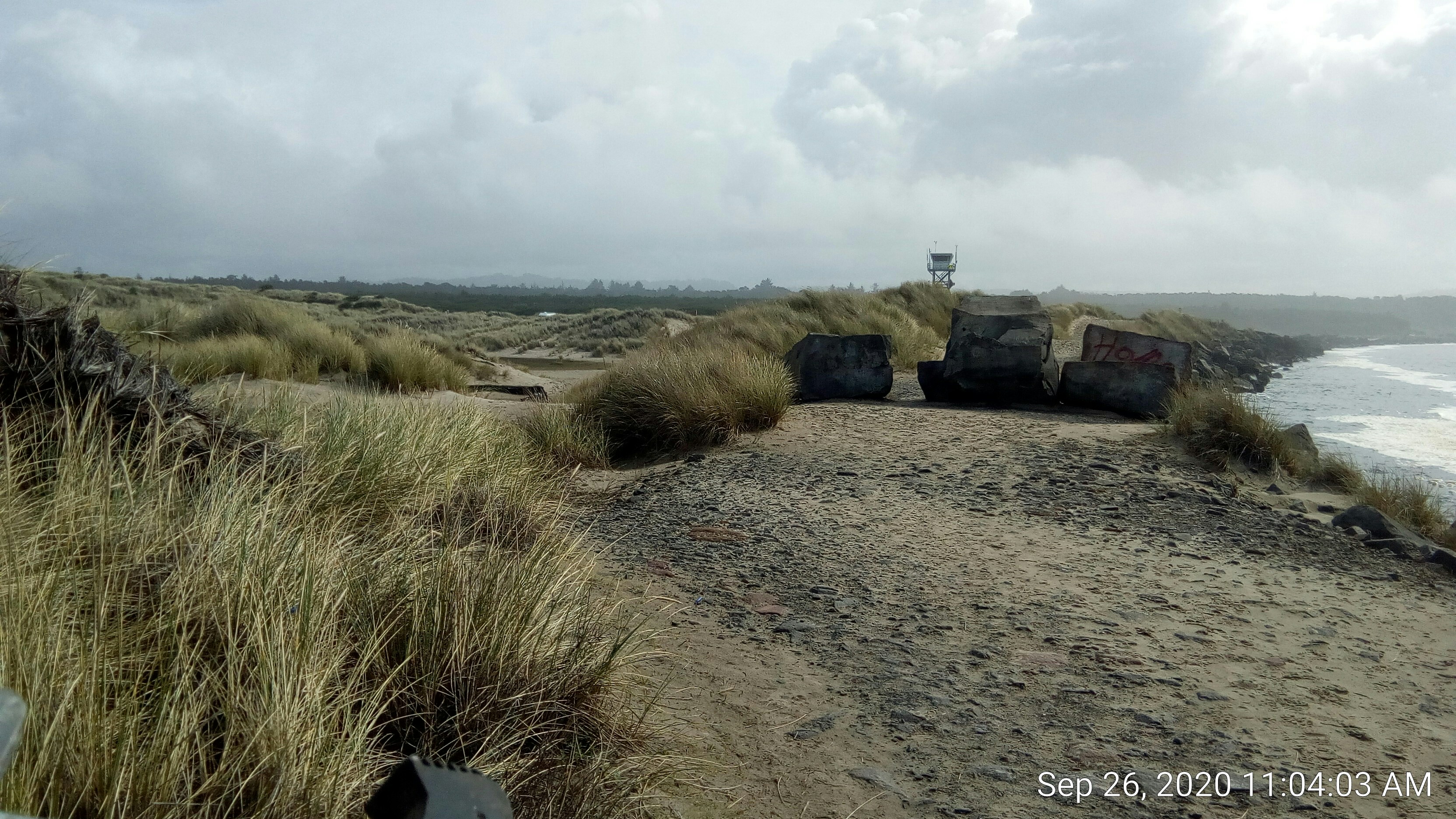 In the background is the parking area with an observation/weather tower on on the the center-right and the white roof of the van sticking up above the dunes on the center-left.  Tallest kid in the class!
housekeeping
I plan on staying here to soak up maximum sun.  Doing some internal rearranging and clutter removal since it's not raining.  Being able to have the van open makes rearrangements easier.
Muffin is on the long tether, laying on a sand dune in the sun.  She prefers being outdoors so the rainy days have been tough on her.