ie, holiday dogs.  I like to be at the shelter on holidays.  It is quieter (good for me),  I can get more dogs walked (good for them), and the dogs are not as wild from passer-by overstimulation.
Lady M was the very shy dog I walked a few weeks ago.  She's being overlooked for adoption because she usually hides like this: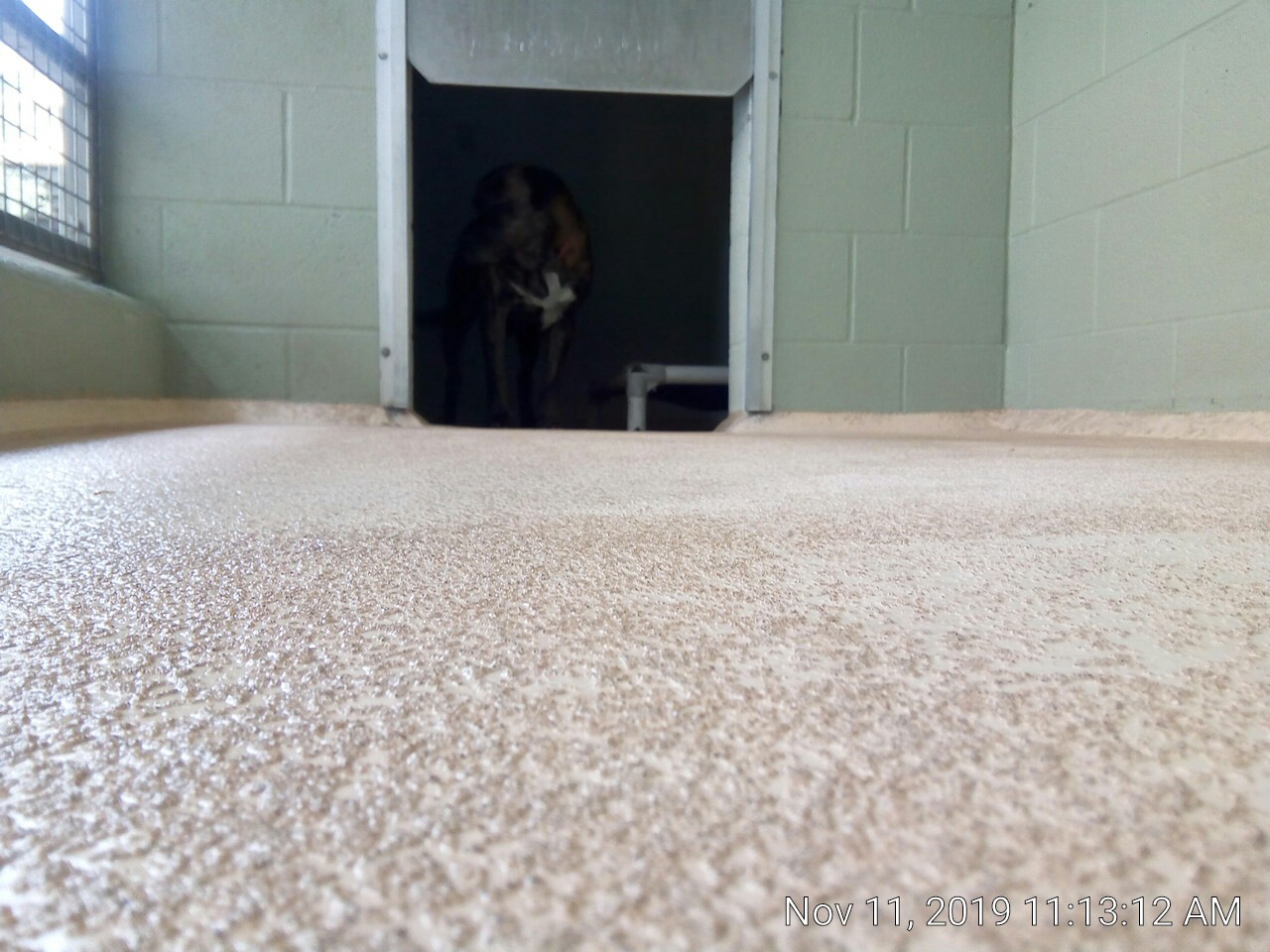 But she can see the door of the office from one end of her pen.  She saw me this time and wagged her tail a bit.  I went to her pen and she didn't run until she'd said her hellos.  Then old habits kicked in like the above.  She came out long enough for us to take a walk: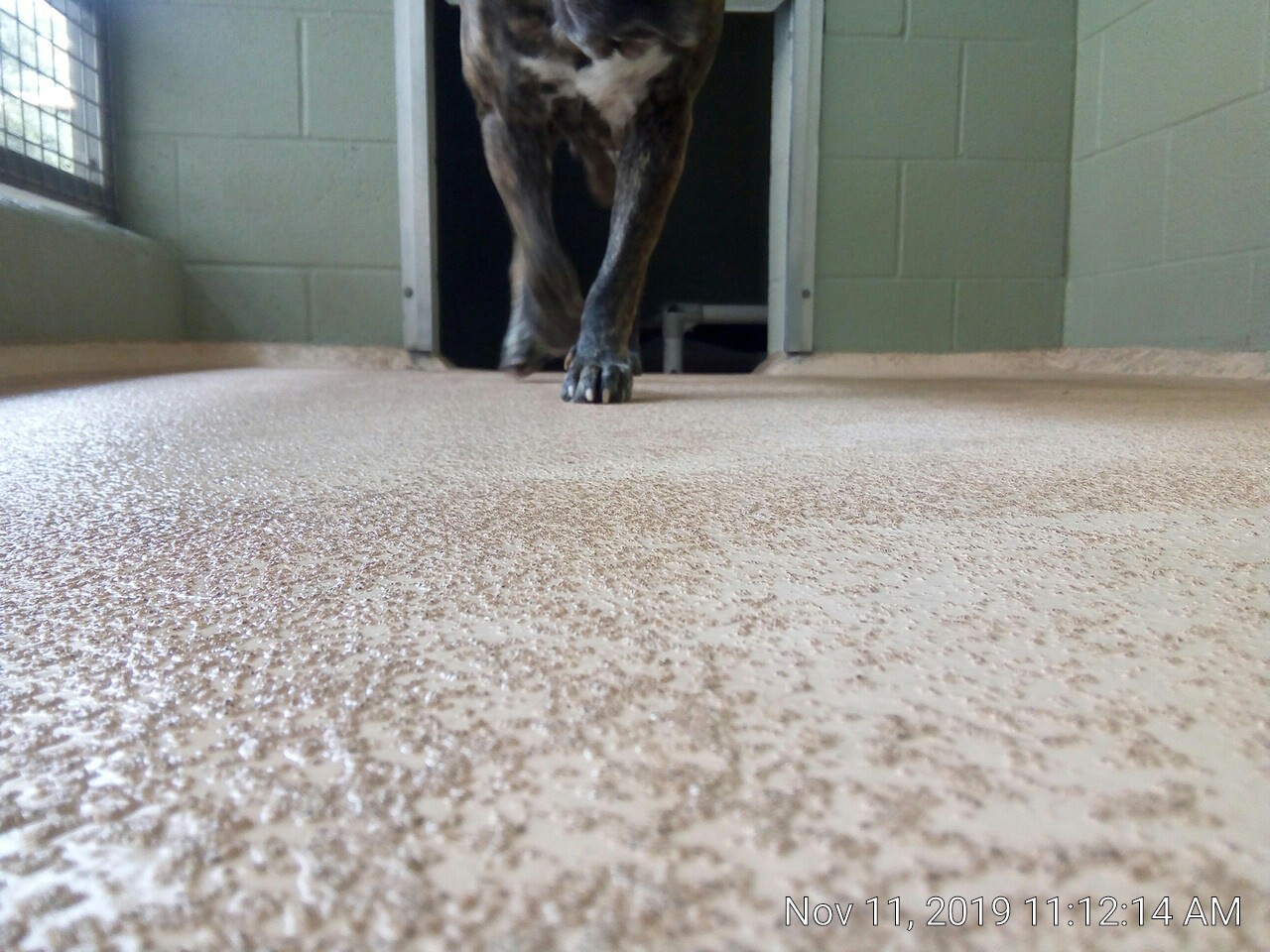 :-) She walked well and I think she is coming out of her shell.
Canada was sick last time I was there, but no longer sported the CONTAGIOUS tag on her pen.    I took advantage of the opportunity to visit with her: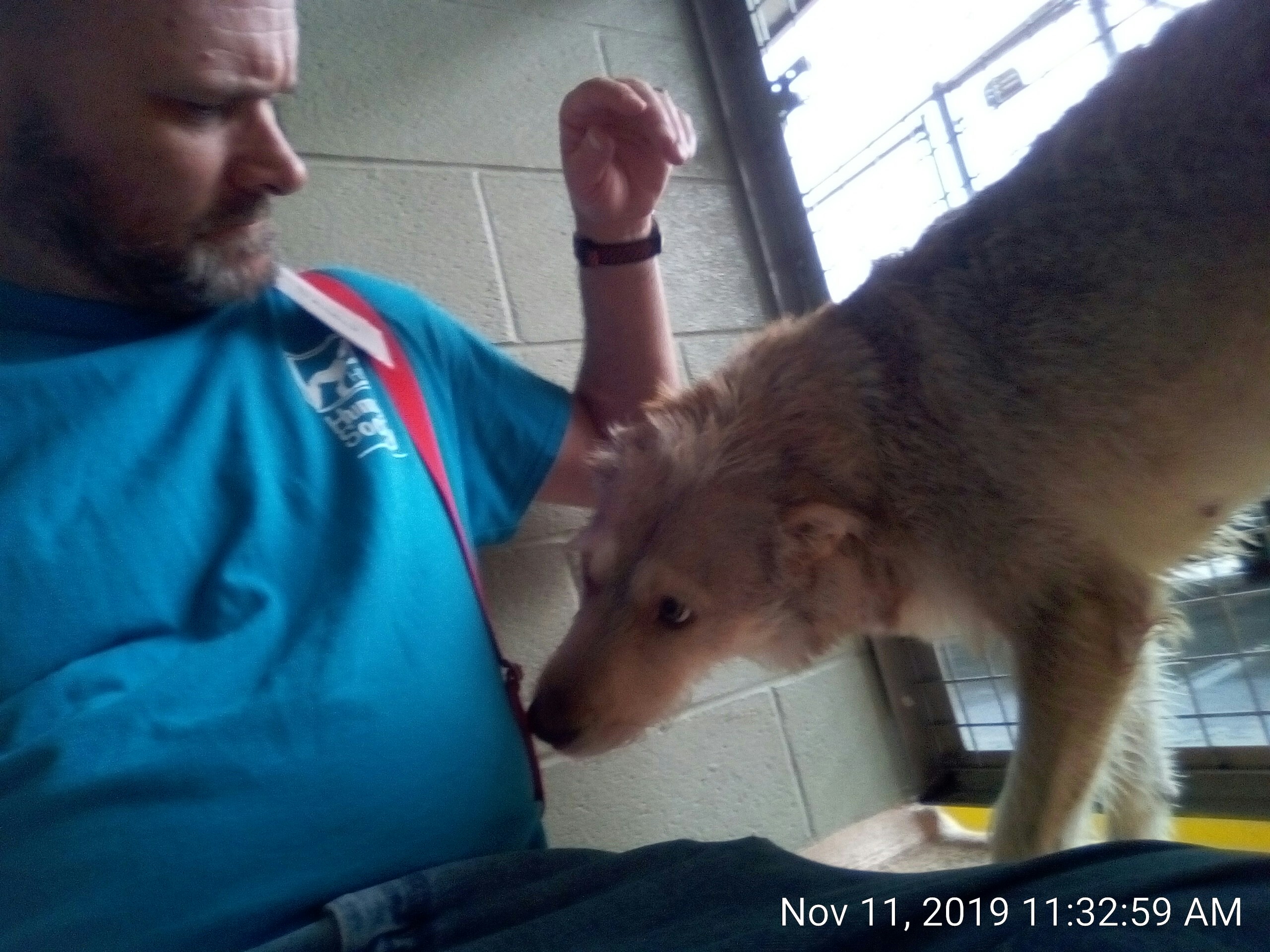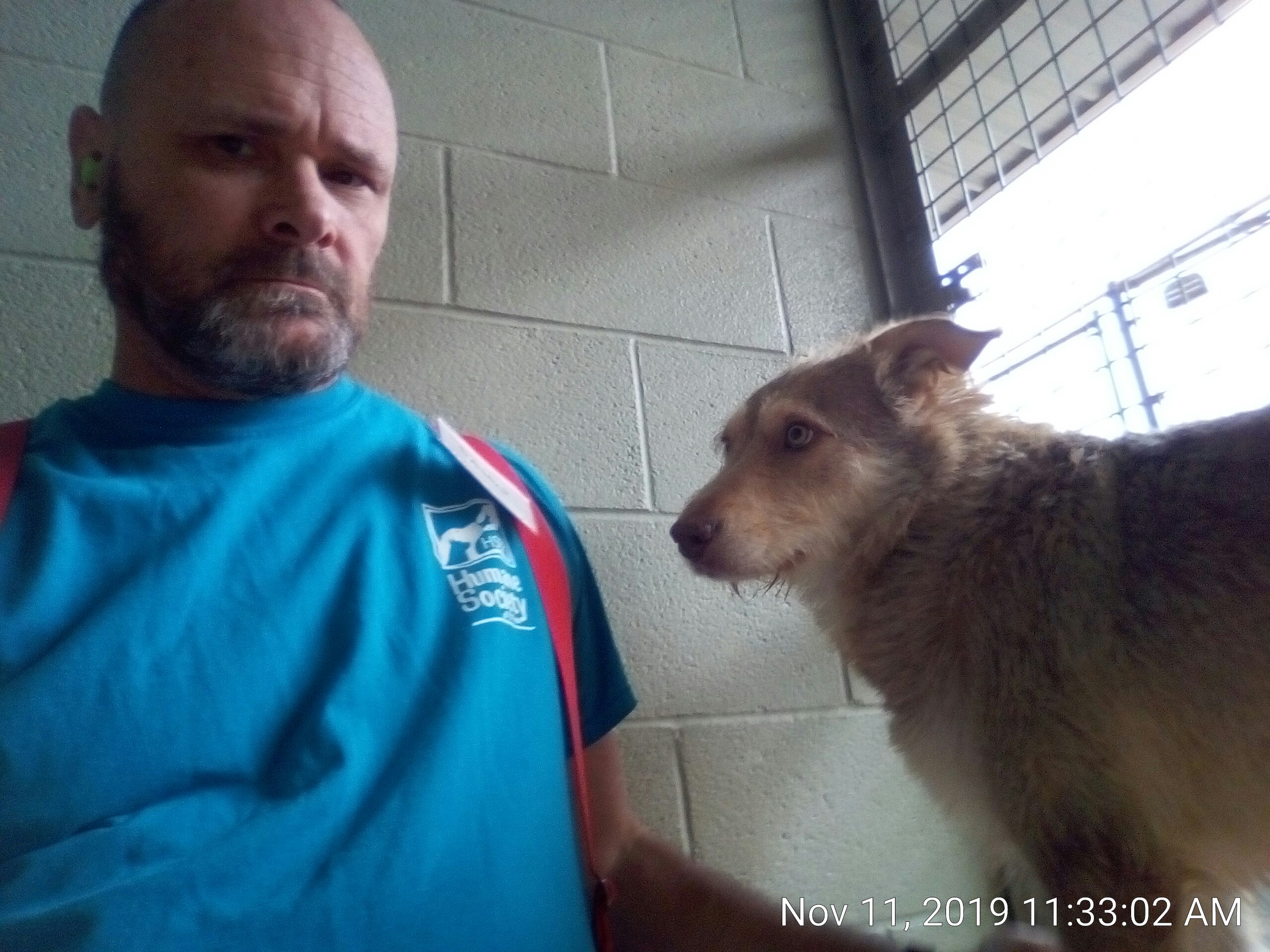 We had a nice walk, no problems.  She warmed up nicely after we were outside for a bit.
Often I turn away from the dogs, face away, or leave space between my back and the wall.  This allows the furbeasts to approach feeling a bit less nervous: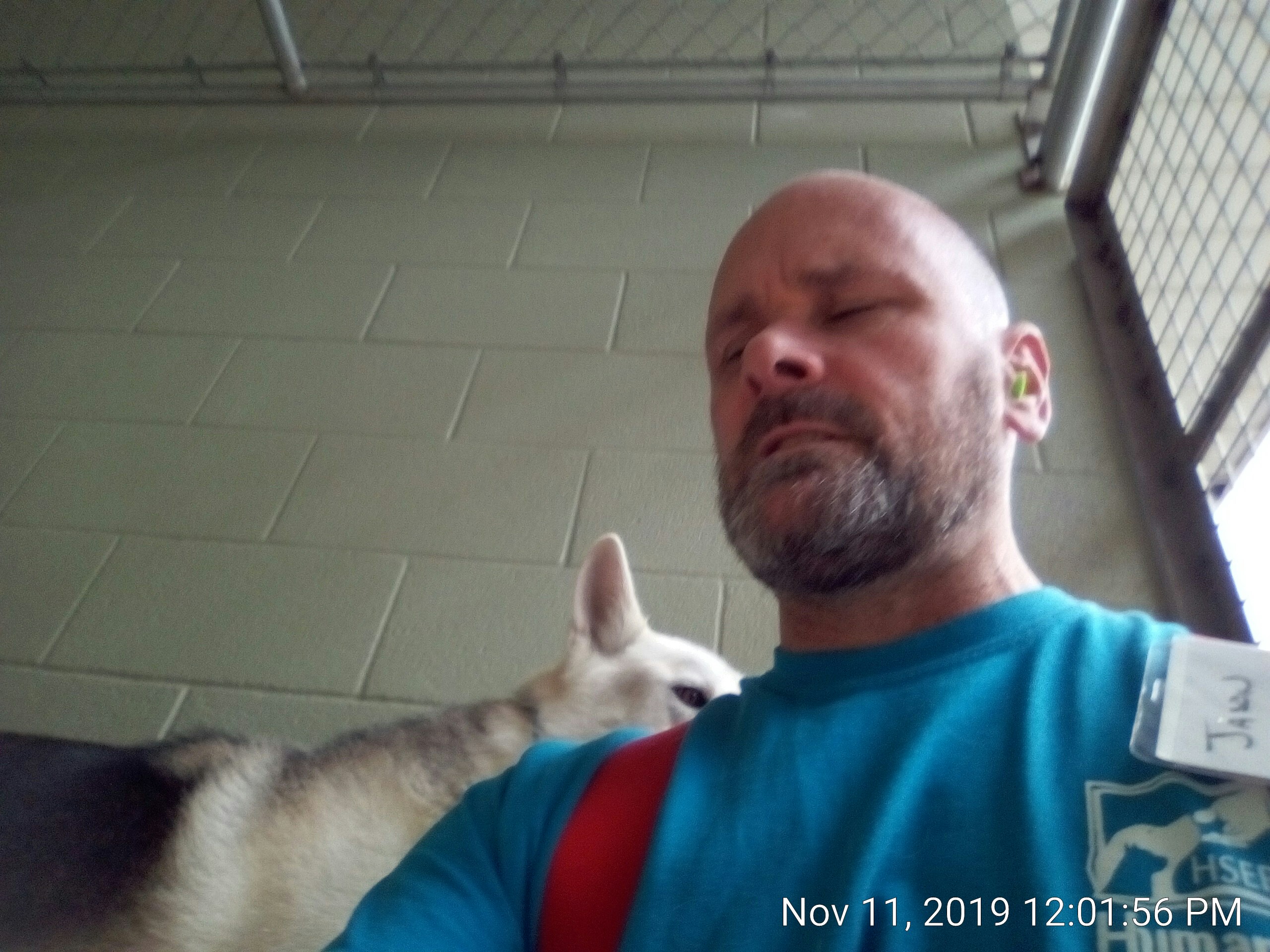 This was Reemus, a husky/GSD mix;  front half was husky with the brown & blue eyes.  Back half was GSD coloring and rear leg stance.    A kind animal, we had a nice walk.
[caption id="" align="alignnone" width="2560"]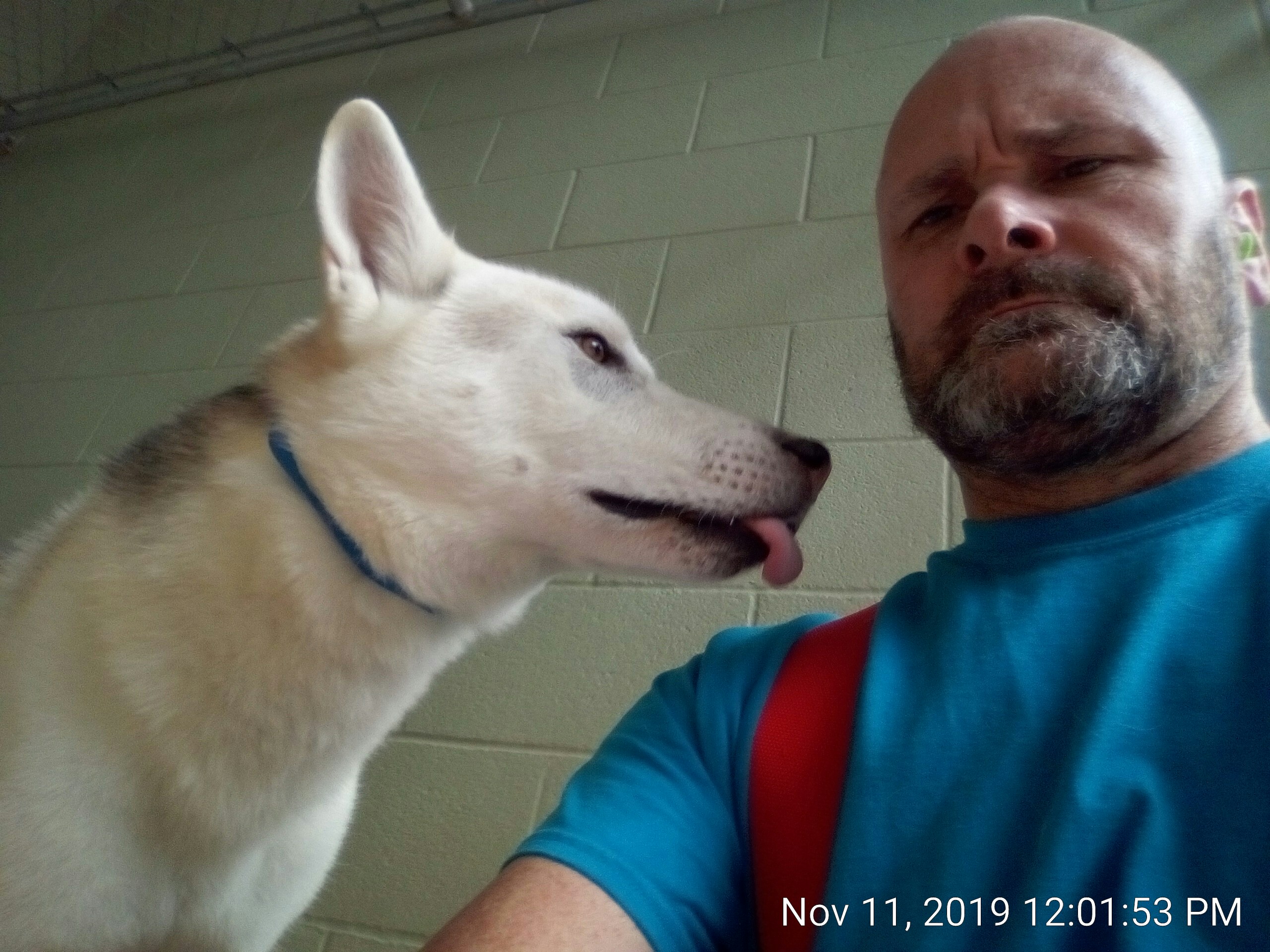 slurp[/caption]
I walked a few other Big dogs but you've seen them before.  Finished them up and headed to the Medium kennels.
First up was a friendly pit named Esmerelda;  the shortened form of that name in El Paso is "Esme" (es-may) so I called her that during our…..  walk?  I couldn't get any pics if that tells you anything.
She was incredibly strong (duh) and seemed to have zero experience on lead.  It was like walking the Tasmanian Devil, only with strapping musculature. It was my cardio workout for the day
Luckily the next dog, Tiny, was a champ.  She was loving and friendly, and walked easily: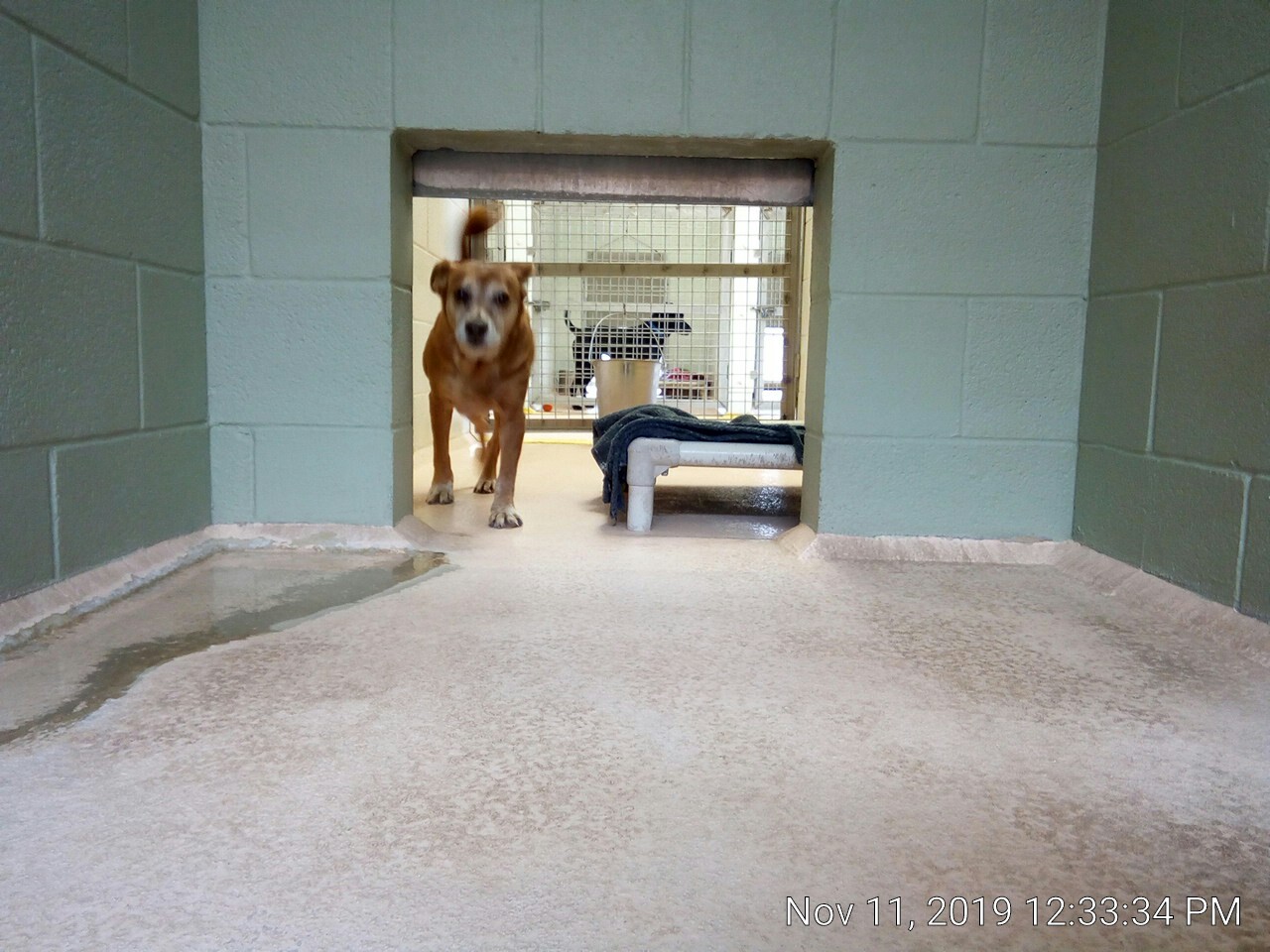 One of the staff at the shelter does TV segments with the dogs.  Today I told my cow-orker "I think I know that dog.  It's Tiny."  And it was.  She climbed onto the knees of the anchor and tried to lick her face.  :-)
The board said that Daisy was housetrained so she was on my list.  But I couldn't get her to come to me on either end of her kennel.  She just cowered as far away as possible and shook.  :-(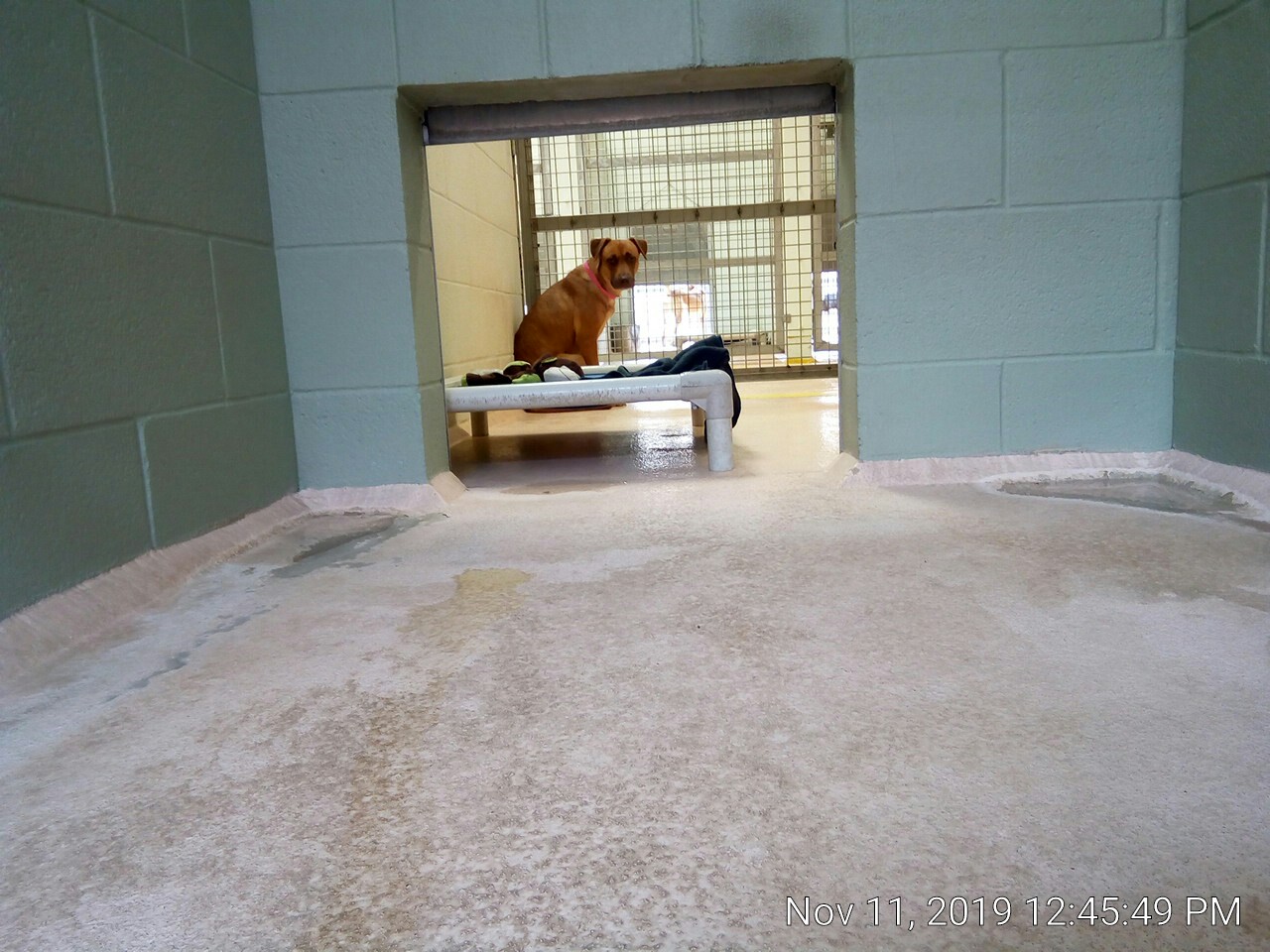 I'll try again next time.
The next housetrained dog was Zeus.  I didn't check his age but his big paws and joyful bounce suggests he's young.  10 months?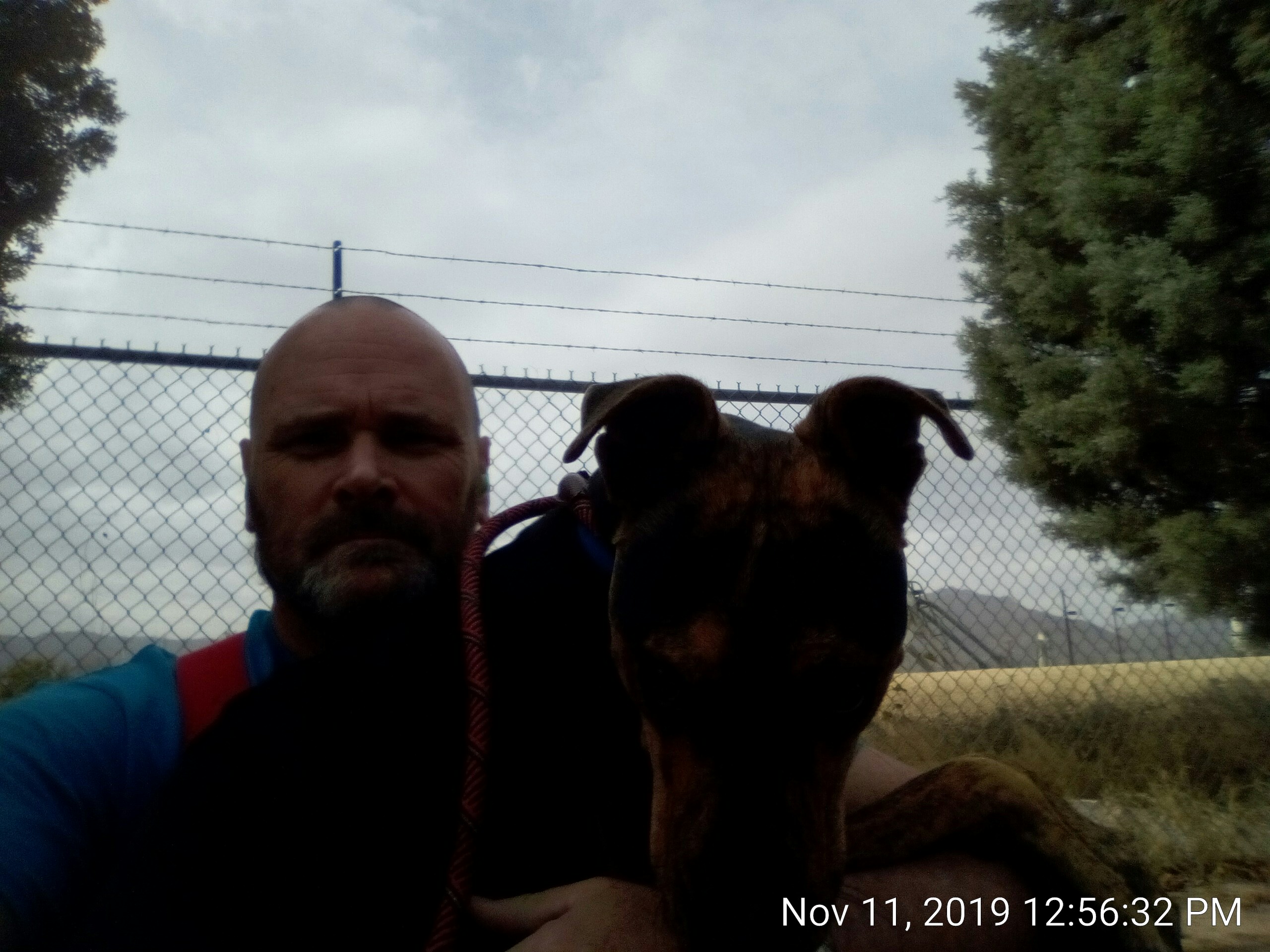 We had a great walk;  he was attentive and even sat: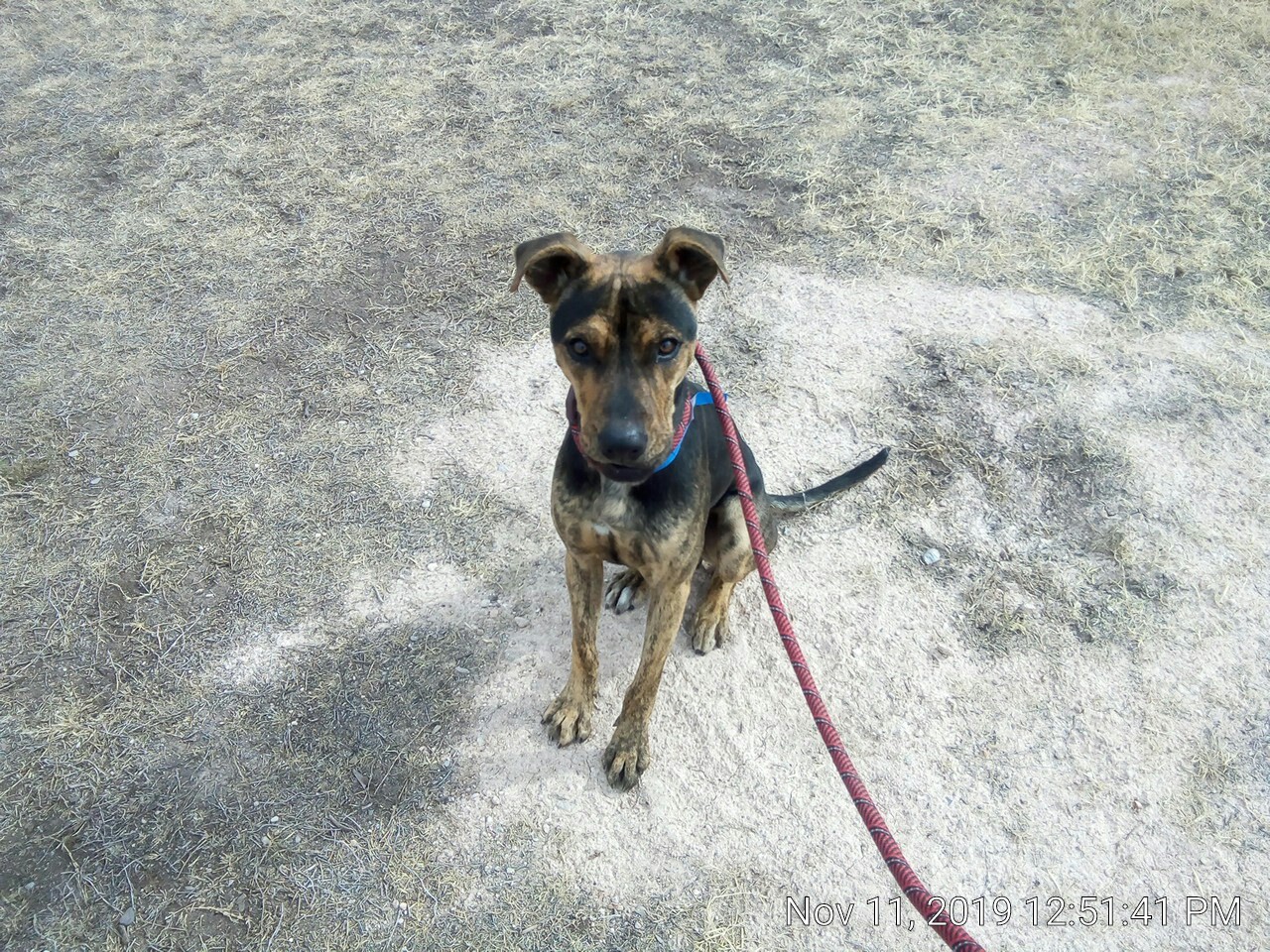 We stopped for a couple of breaks and he was in full "lean" (dog hug) mode.  He's going to grow into a fantastic dog for someone.
This dog-funnel hybrid is Pepe, a Chihuahua.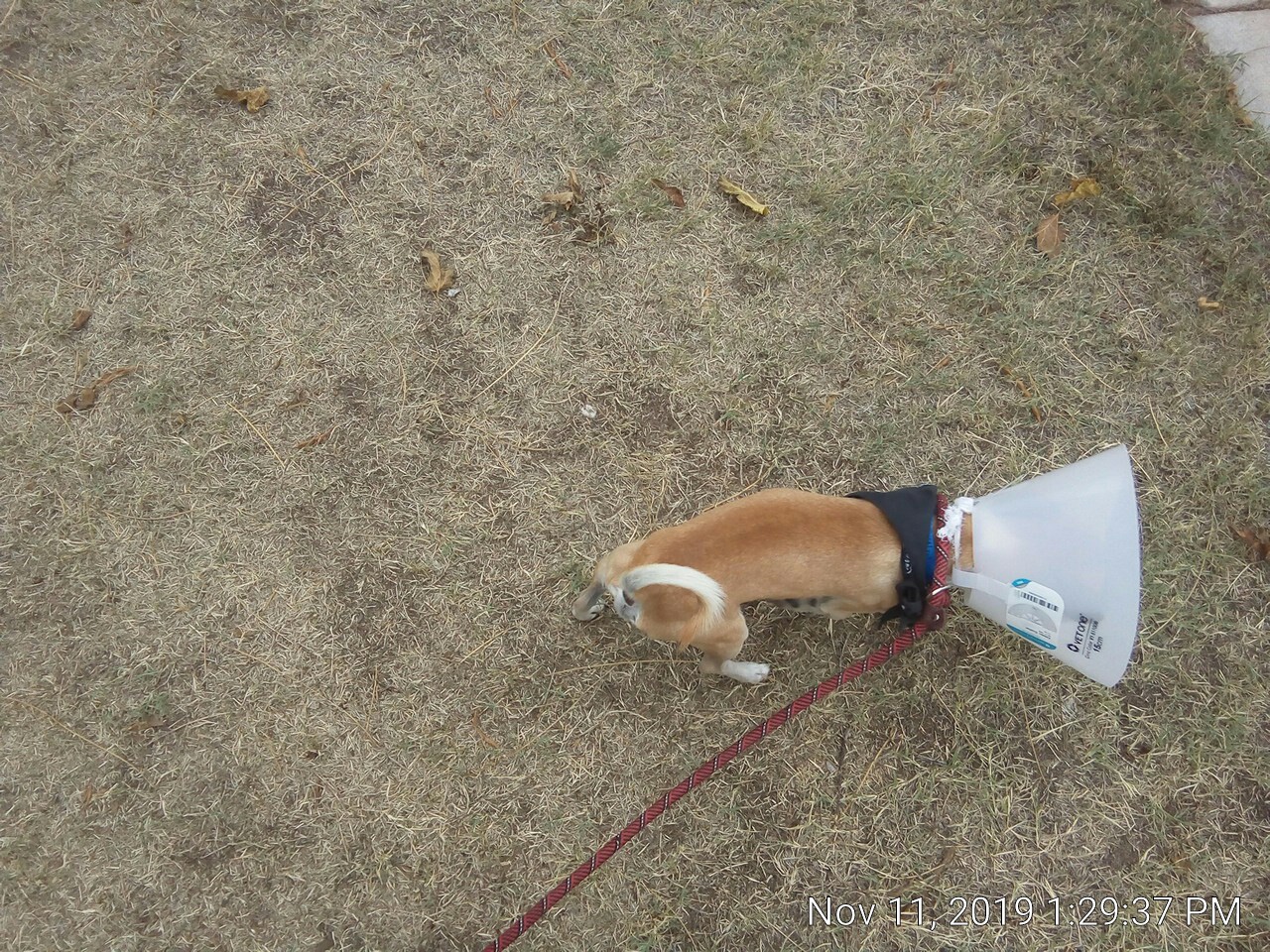 He weighed so little (4-5lbs?) that the collar unbalanced him and his back feet barely touched the ground.  He didn't seem to mind.  I think he was wearing it after neutering.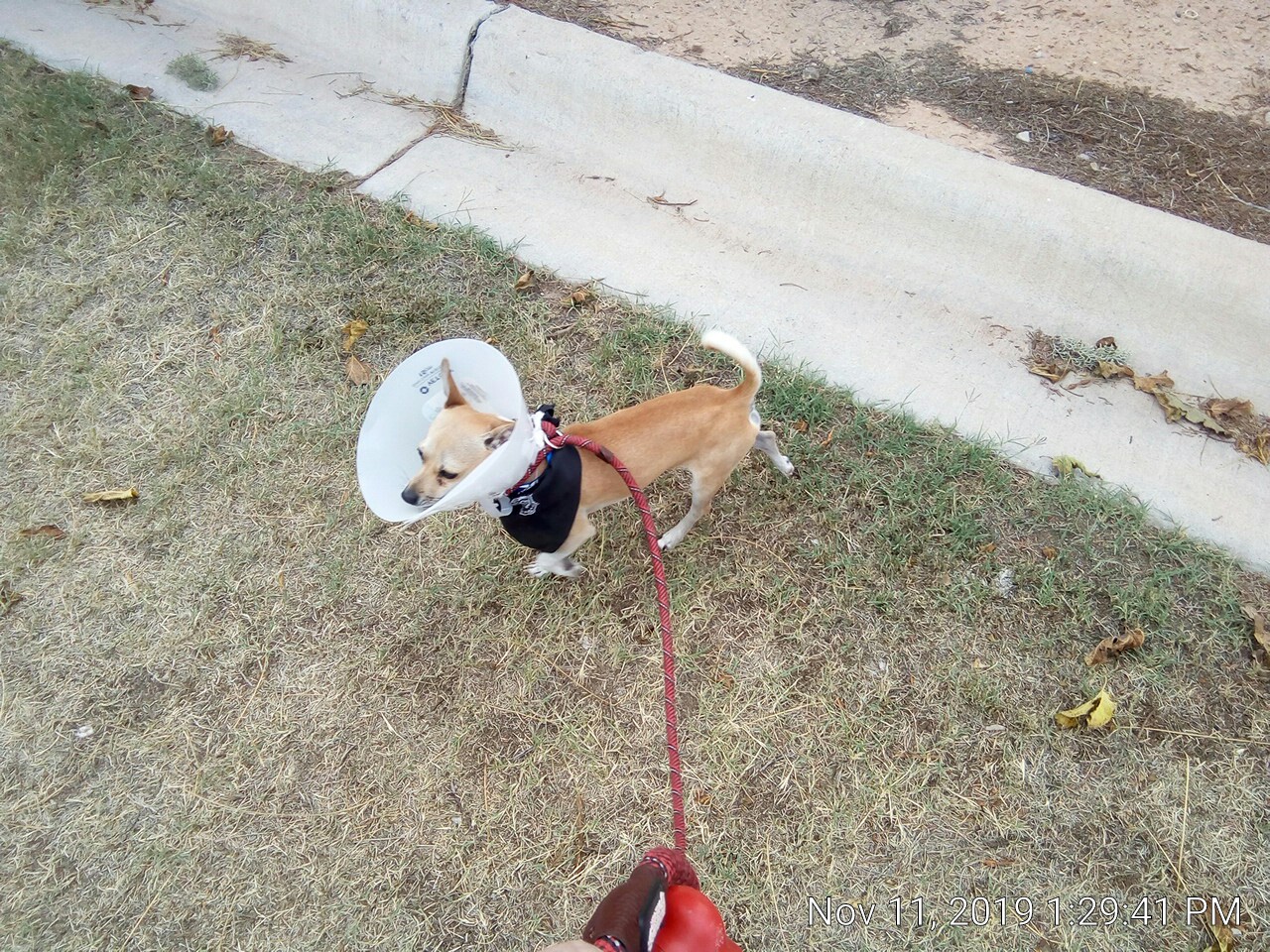 Dogs in the surgical collars are just ache for touch.  I put my hands in there and he'd alternately lick them then press down for firmer contact, making little sighing/groaning noises.   He's ready to go home with a family.